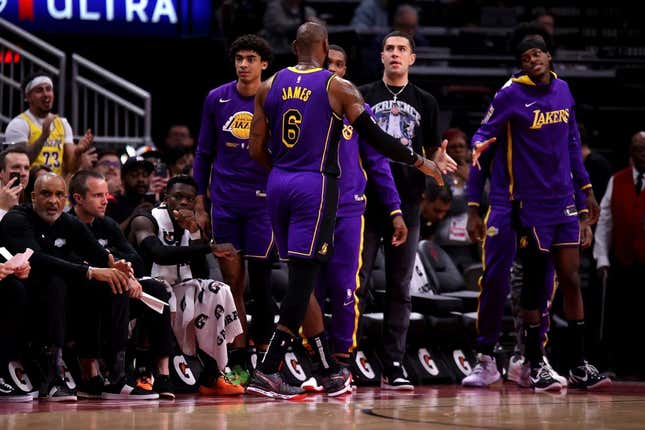 Though they haven't yet clinched a postseason berth in the Western Conference with four games remaining, including a Tuesday game in Salt Lake City versus the Utah Jazz, the Los Angeles Lakers still have their sights set high
Aaron Rodgers should go full Joe Namath | Comedian Bert Kreischer
They're not just trying to reach one of the top six spots in the West to make the playoffs. They're still thinking about playing deep into June and planning a parade.
"We just want to put ourselves in position to be able to compete for a championship," Lakers star LeBron James said. "It's a journey and obviously, we don't have as much chemistry as a lot of other teams that are trying to compete for a championship or have aspirations to win a championship, but I like what we've been building over the last month or so
"These last few games ... are very important for our team, not only wins and losses but the chemistry side as well. We want to continue to build what we've been building over the last month or so. So we'll see what happens."
With a week left in the regular season, the Lakers (40-38) are a half-game behind the Los Angeles Clippers and Golden State Warriors (both 41-38) for the final two guaranteed playoff spots. They're tied with the New Orleans Pelicans in the seventh spot in the conference and need one win to clinch at least a play-in opportunity
The Lakers have won three straight and six of their last seven. Anthony Davis scored 40 points and James notched a triple-double with 18 points, 11 assists and 10 rebounds in Sunday's 134-109 win over Houston
"We always say we want to get stronger as the season gets longer and be playing our best basketball at the right time," Lakers coach Darvin Ham said. "Well, the time is definitely right and everybody's in a good rhythm starting with (Davis) first and foremost. He understands wholeheartedly what we need him to do and he's coming out and trying to do that.
"Feeling good," said Davis, who has scored at least 37 points in four of his last five games. "Feel like I'm back to myself before the injury. But we're all playing well. The guys are making it easy for me."
Though not many expected the Jazz (36-42) to be in a position to consider the playoffs during a rebuilding season, they still have an opportunity to make the play-in tournament despite losing six of their last seven games, including a 111-110 loss Sunday in Brooklyn after rallying from 23 down
"I love the competitiveness," Jazz coach Will Hardy said. "I thought the guys dug in, stuck with it when they very easily could've folded at different times in the game.
Utah has its work cut out to make postseason play. The Jazz are 1 1/2 games behind 10th place Oklahoma City (38-41) and a half-game back of Dallas (37-42)
The Jazz and Lakers play twice this week as the teams jostle for playoff positioning. They will meet on Sunday in Los Angeles for their regular-season finale
Former Los Angeles guard Talen Horton-Tucker, who played the previous three seasons with the Lakers, is on a tear. He's scored 101 points in his last three outings, including 41 in a recent win at San Antonio. He scored 15 of his 32 points in the fourth quarter to lead the Jazz's comeback attempt Sunday
--Field Level Media