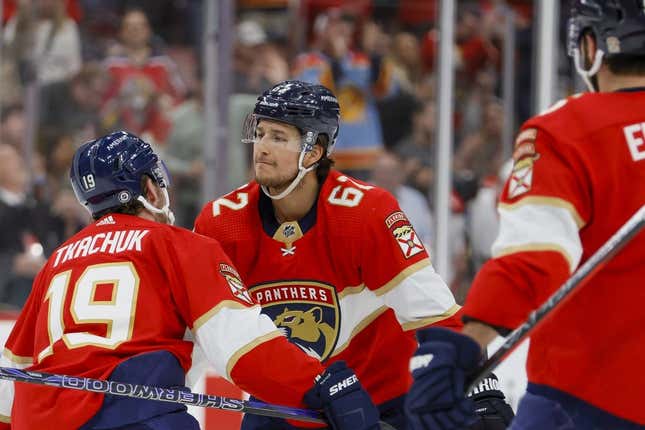 When the Toronto Maple Leafs visit the Florida Panthers in Sunrise, Fla., on Monday night, the motivations for the two teams could not be more different
Bass' ERA stinks, but not compared to who he is off the mound | Worst of the Week Countdown
The Leafs (47-21-11, 105 points) have clinched a playoff berth and are guaranteed to finish second in the Atlantic Division. They will play the Tampa Bay Lightning in the first round of the postseason.
Meanwhile, Florida (42-31-7, 91 points) has a slight tiebreaker and/or points lead over the New York Islanders (91 points) and the Pittsburgh Penguins (90). Only two of those three teams will make the playoffs, and the Panthers are guaranteed to get in if they beat the Leafs on Monday and the visiting Carolina Hurricanes in their regular-season finale on Thursday
"There's an expectation that they are winning out," Panthers coach Paul Maurice said of the Islanders and Penguins. "We're going to have to play our best hockey of the season in our final two games, and that's possible.
Matthew Tkachuk, who leads the Panthers with a career-high 108 points, is certainly playing his best hockey. He is coming off a one-goal, two-assist game in Saturday's 4-2 win over the host Washington Capitals
That game was tied until Tkachuk scored with just 60 seconds left.
"We have to keep it going," said Tkachuk, who also leads the Panthers with 68 assists and ranks second with 40 goals. "We all want to make it in (the playoffs) so bad.
Carter Verhaeghe leads the Panthers with a career-high 41 goals, and Florida has received a huge lift from backup goalie Alex Lyon, who has stepped in for starter Sergei Bobrovsky (non-COVID illness)
Lyon, a 30-year-old career backup/minor-leaguer, has won six straight games. His first start of the current stretch ended Florida's four-game losing streak, and the team has been on fire ever since.
"We were struggling there for a bit and he's kind of probably one of the main reasons why we've been able to turn this around right now," Tkachuk said of Lyon.
As for the Leafs, they rested two of their top defensemen -- TJ Brodie and Morgan Rielly -- in a 7-1 win over the Montreal Canadiens on Saturday.
Mitchell Marner was Toronto's star in that win, posting two goals and one assist. He now has a career-best and team-high 98 points -- one more than he had last season.
Marner also leads Toronto with 68 assists, and he admitted he would love to reach 100 points.
"I try not to focus on stuff like that," Marner said. "But it's hard when you're this close."
The Leafs have four players with at least 30 goals: Auston Matthews (39), William Nylander (38), John Tavares (35) and Marner (30).
Still, the Leafs have alternated wins and losses over their past 10 games, and there has been no momentum as the playoffs approach.
Toronto's other concern is that backup goalie Matt Murray (14-8-2, 3.01 goals-against average) is still recovering from a head injury.
"He's had some good days of late," Leafs coach Sheldon Keefe said of Murray.
Toronto's starting goalie is Ilya Samsonov (26-10-5, 2.36 GAA, four shutouts). He is 1-0-1 with a 1.77 GAA against the Panthers this season
--Field Level Media