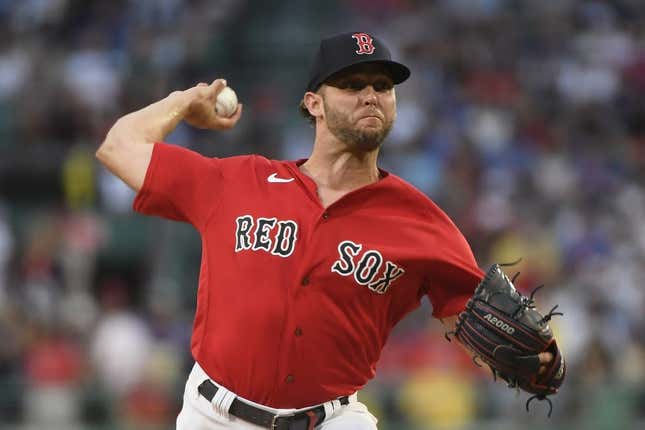 As the clock ticked down to Major League Baseball's trade deadline on Tuesday, the Boston Red Sox and Seattle Mariners found themselves in similar situations
How running an NFL team is like running a restaurant | Chef Emeril Lagasse
Both were multiple games back in the American League's wild-card race and in the end made only minor moves on deadline day. The Red Sox acquired infielder Luis Urias from the Milwaukee Brewers, and the Mariners dealt for Baltimore Orioles reliever Eduard Bazardo
The Red Sox responded with a 6-4 victory over host Seattle behind homers from Alex Verdugo and Reese McGuire, snapping a three-game losing streak. The three-game series wraps up Wednesday afternoon
The solo shot by McGuire, who graduated from Kentwood High School in the Seattle suburbs, was his first of the season. McGuire, who was the Pittsburgh Pirates' first-round draft pick in 2013, just returned from a rehabilitation assignment after missing more than a month with a right oblique strain
"He's a good player. There's a reason he's here," Red Sox manager Alex Cora said. "He worked hard to get back and we gave him a chance, and he put (up) two good at-bats.
Both Red Sox and Mariners front-office officials said they didn't find any fits for bigger moves at the deadline
"We really liked what we're building," said Red Sox chief operating officer Chaim Bloom, whose team pulled within 1 1/2 games of a playoff position with the Tuesday win. "You're seeing it more and more each night on the field -- the core we're building and what we're building toward. Understanding that we're underdogs this year right now, where we are in the playoff odds, we just tried to stay true to that.
Mariners president of baseball operations Jerry Dipoto, whose team is 3 1/2 games back in the wild-card hunt, delivered a similar message
"We didn't want to be disruptive," Dipoto said. "We also didn't want to create holes. I think the team has played so well over the course of this last month and, generally speaking, over the course of the last 10 days, it's really started to progress. It's the first time we've really seen this team have this type of traction. This team has the talent to do it. We've always known that we have the talent to do it
"We would have liked to have done more to help, but we did what we thought we should do. I wish we could have been more aggressive. They gave us every reason to believe in them and be more aggressive. There just wasn't a lot to be aggressive with.
Wednesday's series finale will feature a pair of right-handers, Boston's Kutter Crawford (5-5, 3.86 ERA) and Seattle's Logan Gilbert (9-5, 3.83)
Crawford beat the host San Francisco Giants 3-2 on Friday as he allowed just one run on three hits in 5 2/3 innings with one walk and seven strikeouts. Crawford has faced Seattle once before, tossing five scoreless innings in a no-decision on June 12, 2022
Gilbert went 4-0 with a 2.78 ERA over five starts in July. He beat the host Arizona Diamondbacks 5-2 on Friday after giving up two runs on nine hits in 6 1/3 innings, with no walks and five strikeouts. Gilbert is 0-0 with a 3.46 ERA in two career starts against Boston
--Field Level Medi