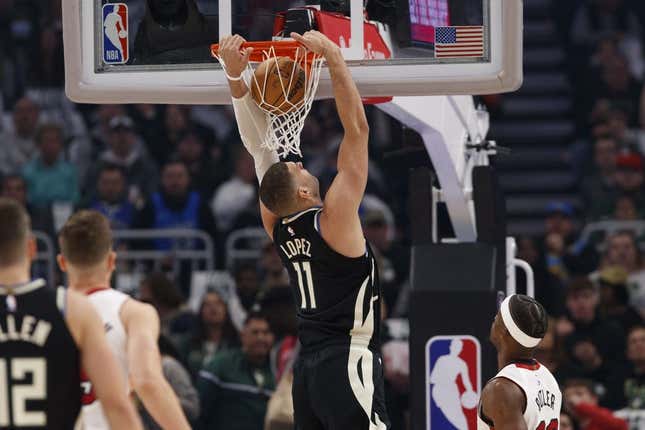 Brook Lopez and Jrue Holiday combined for 49 points, Bobby Portis stepped in for injured Giannis Antetokounmpo and contributed a double-double, and the Milwaukee Bucks rebounded from an opening loss to thump the visiting Miami Heat 138-122 in Game 2 of their Eastern Conference first-round series Wednesday night
'Soccer fandom is full of gatekeepers' says Ted Lasso actor Brendan Hunt
Four other Bucks scored at least 16 points to allow Milwaukee to break even in its two opening home games before the best-of-seven moves to Miami for Games 3 and 4 beginning Saturday
Both teams played without a star player injured in the Heat's 130-117 triumph in Game 1. But while Antetokounmpo was a late scratch for Game 2 with a sore lower back, Miami's Tyler Herro has been ruled out for the series with a broken right hand
The teams played on relatively even terms for more than 11 minutes before Lopez hit two close-range shots to give the Bucks a 35-28 lead after one period
The hosts, seeded first in the East, then busted the game wide open with a 46-point explosion in the second period.
The big push came after a Bam Adebayo hoop drew the eighth-seeded Heat within 51-41 with 7:37 left in the half. Miami didn't score again until a Jimmy Butler free throw at the 5:11 mark, with the Bucks having ripped off 11 straight points in the meantime to go up 62-41
Holiday and Pat Connaughton had 3-pointers in the run.
Milwaukee went on to lead 81-55 at halftime before coasting home.
Hitting 12 of his 17 shots, Lopez led all scorers with 25 points, while Holiday finished with 24 as part of a double-double with a game-high 11 assists.
Portis was the game's leading rebounder with 15 to complement 13 points, five assists and two blocks, while Connaughton finished with 22 points, Joe Ingles had 17, and Khris Middleton and Grayson Allen 16 apiece.
The Bucks shot 51.0 percent on 3-pointers, making 25 of 49 and outscoring the Heat 75-48 from beyond the arc. Connaughton led the way with six threes, while Ingles hit five, and Holiday and Allen hit four apiece
Butler had 25 points to pace the Heat, who captured both head-to-heads with the Bucks in Miami this season
Adebayo added 18 points for Miami, while Gabe Vincent went for 16, Caleb Martin and Victor Oladipo had 15 apiece, and Duncan Robinson 14. Martin also found time for a team-high six assists.
--Field Level Media