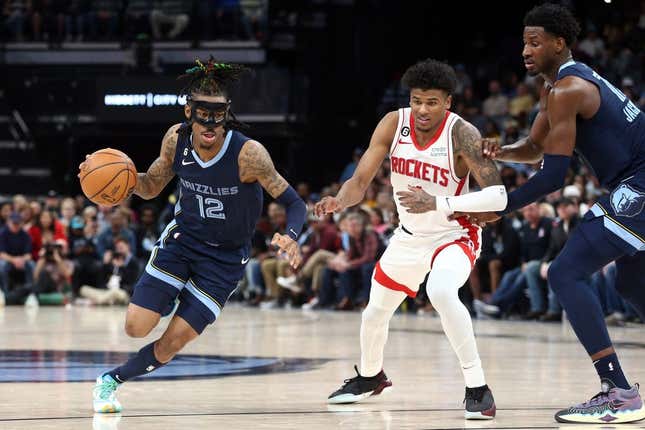 The Memphis Grizzlies remain without Steven Adams and will be without Brandon Clarke for the remainder of their season, but on Wednesday their rotation received a much-needed boost.
Can the Florida Panthers make a comeback? | Agree to Disagree
All-Star guard Ja Morant returned from an eight-game suspension and nine-game absence and produced 17 points, five assists and two steals in 24 minutes off the bench in the Grizzlies' 130-125 victory over the Houston Rockets.
The win clinched the Southwest Division title for Memphis (45-27), which extended its winning streak to four games and will host the Rockets again on Friday in the finale of the four-game season series. The Grizzlies are 3-0 against Houston.
Morant provided the dynamism that has become a hallmark of his game. His first two baskets were scored through fouls and were parts of three-point plays.
Immediately upon entering the game late in the first quarter, Morant assisted on two baskets from Jaren Jackson Jr., who scored a season-high 37 points. Morant added four rebounds, a block and the requisite thrills.
"It meant a lot," Morant said of the crowd's reaction to his return. "Obviously I'm thankful and grateful for everybody who's been supporting me during this time. It definitely helped me a lot, definitely made me feel a little better, ease everything that's going on. Felt good to be back. Super excited."
Morant accepting a bench role showed his willingness to integrate back into a successful mix. Memphis won six of the final seven games with Morant sidelined.
"He knew what this team was doing the last couple of weeks," Grizzlies coach Taylor Jenkins said. "He wanted to come in and make sure he was playing winning basketball for the guys."
Offensive efficiency enabled the Rockets (18-55) to hang tough with Memphis. Houston shot 51.6 percent from the floor, grabbed 20 offensive rebounds and recorded 20 fast-break points.
The Rockets' 16 turnovers negated their plus-6 advantage in field-goal attempts, and they scored just 12 second-chance points despite their handiwork on the offensive glass. Still, with Jalen Green, Kenyon Martin Jr. and Alperen Sengun combining to score 88 points on 64.7 percent shooting, the Rockets made Memphis sweat out the victory.
Green scored a team-high 32 points and registered his 13th 30-point game. He is averaging 29.3 points over his last four games.
"Really just trying to take the shots that my guys give me instead of having to force all the time and jack shots," Green said. "Guys have been locked in and setting screens and we've been executing the offense pretty well, too, and I think that plays a big part in how I've been scoring."
Martin chipped in a career-high 31 points on 12-of-18 shooting, marking the 34th time this season he has shot at least 60 percent. He has reached double figures in 28 of those games.
"Doing what he does," Rockets coach Stephen Silas said of Martin. "He screens and rolls; he's an expert at it. He was just aggressive and attacking. There were times when I thought he got even hit at the rim and still powered through and finished or got to the free-throw line.
"He continues to be consistent, and that's important."
--Field Level Media