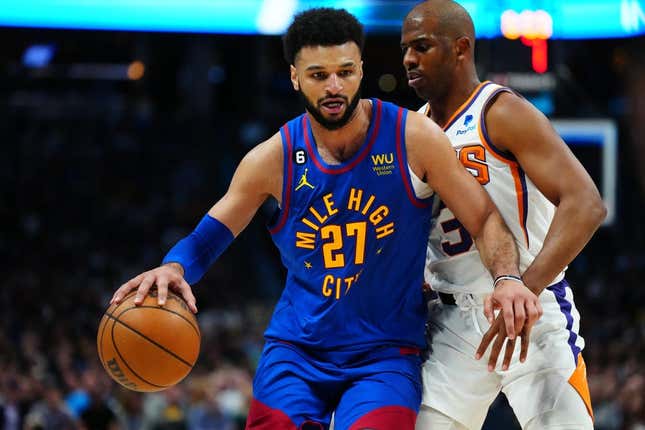 Nikola Jokic may be the two-time league MVP and centerpiece for the Denver Nuggets, but even he acknowledged that he is playing second chair to teammate Jamal Murray
Bass' ERA stinks, but not compared to who he is off the mound | Worst of the Week Countdown
"He is our best player, and we are following him right now," Jokic said after Denver's 125-107 win over the Suns in Game 1 of the Western Conference semifinals on Saturday night
The Nuggets, the top seed in the conference, will try to head to Phoenix up 2-0 by picking up a win on Monday night when they face the visiting Suns in Game 2
Murray forged his playoff reputation in the 2020 Orlando bubble with multiple 50-point games to lead Denver to the Western Conference finals, and this postseason, his first since that run three years ago, he has again become the team's catalyst.
He had 34 points -- including six 3-pointers -- to spark the Nuggets' relatively easy win on Saturday night. He has scored 34 or more points in half of Denver's six playoff games this year, taking a lot of the offensive burden off Jokic, who had to carry the team in two short playoff runs in each of the two previous postseason trips
While some might be surprised at how the Nuggets manhandled the Suns on Saturday night, Murray is not
"We know what we're capable of," Murray said. "I don't know why you all (are) asking us like we're surprised. We're confident (in) what we can do and (yet have) to defend ourselves up here like we haven't been playing like this all season."
It wasn't just Murray who played well. Aaron Gordon, who drew the defensive assignment on Kevin Durant, scored 23 points, and Bruce Brown added 14 off the bench.
Jokic had 24 points and 19 rebounds but shot an uncharacteristic 42.9 percent (9-for-21).
Durant (29 points, 14 rebounds) and Devin Booker (27 points) had good games, but Phoenix will have to make adjustments for Game 2. The Suns had 16 turnovers, seven by Durant, and didn't get enough from center Deandre Ayton, who had 14 points and seven rebounds
"A lot of it for him is, when he plays with that aggression and force, it actually energizes the team," Phoenix coach Monty Williams said of Ayton.
The Suns also have to figure out a way to stop Murray. Contesting shots wasn't a problem in Game 1, so one strategy will be to deny him the ball as much as possible
"Let's be honest, some of the shots he hit, I don't think anybody can stop him," Williams said. "But we've got to do something a little bit different in our scheme to keep him from getting the ball or get the ball out of his hands."
The Suns also need more from their bench. Jock Landale led that unit in scoring with seven points, but some of those came after the game was decided. The starters played heavy minutes and will likely do the same on Monday night, but there are three off days before Game 3 in Phoenix on Friday
"Offensively, we can figure it out," Durant said Sunday. "It's a free-flowing, unpredictable game anyway in the playoffs, so you get stops, that's better offense anyway."
--Field Level Media