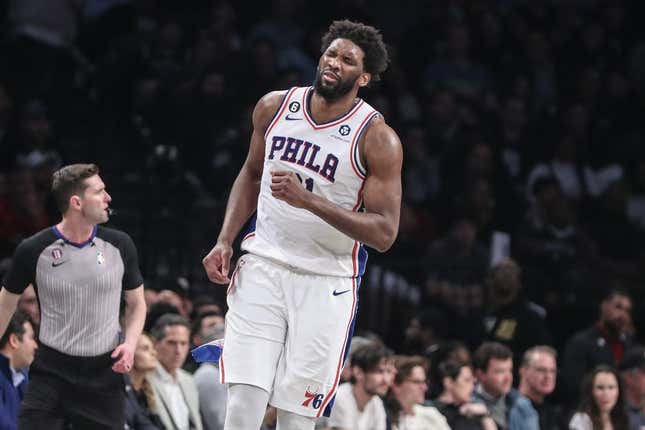 All eyes will be on Joel Embiid when the visiting Philadelphia 76ers face the Boston Celtics on Monday night in Game 1 of their Eastern Conference semifinal playoff series
Bass' ERA stinks, but not compared to who he is off the mound | Worst of the Week Countdown
Embiid sustained a sprained LCL in his right knee during Game 3 of Philadelphia's first-round series against the Brooklyn Nets and did not play when the 76ers clinched the series with a victory in Game 4
His status for Monday's game is unclear, but Philadelphia coach Doc Rivers made it sound like Embiid is unlikely to play.
"There is no latest," Rivers said following practice Saturday. "I mean, obviously, doctors looked at him. He didn't do anything (Saturday). I'll say this: If I was a betting man, I would probably say doubtful for at least Game 1. But we'll see."
Embiid averaged an NBA-best 33.1 points per game during the regular season. He averaged 36.8 points, 11.8 rebounds, 4.3 assists and 1.8 blocked shots per contest in Philadelphia's four regular-season games against Boston. The Celtics prevailed in three of those four meetings, but each of their three victories came by single digits
Embiid scored 52 points in Philadelphia's lone victory over Boston, a 103-101 outcome in April. He also had 13 rebounds, six assists and two blocks in that win.
Paul Reed was Philadelphia's starting center in Game 4 against Brooklyn. He contributed 10 points and had a career-high 15 rebounds.
Tyrese Maxey averaged a team-high 21.8 points per game for the 76ers during their series against the Nets
"Tough matchups," Boston's Jayson Tatum said when asked about the third-seeded 76ers. "Obviously that's a great team. Probably gonna be the MVP in Embiid. I'm looking forward to it. Playoffs is about the best teams, best players.
Second-seeded Boston advanced by winning its first-round series against Atlanta in six games. Tatum (27.2 ppg) and Jaylen Brown (26.7 ppg) were the Celtics' scoring leaders
"Obviously, you know the focus shifts," Boston center Al Horford said. "(Against Atlanta), it was more perimeter. With Joel (Embiid), it's a little bit of everything else. And we said it before, a guy like Joel, the whole team's gotta be very engaged. And we saw what Brooklyn did there with doubling and all that stuff. So we'll definitely be looking at all that stuff and make sure that, obviously, we come up with a good plan."
One of the keys for Boston in the best-of-seven series likely will be 3-point shooting. Including playoffs, the Celtics have a 34-2 record when they make at least 40 percent of their 3-point attempts. TRhey are 27-24 when failing to shoot at least 40 percent from behind the arc
"We know they're going to bring the fight," the Celtics' Brown said of the 76ers. "Philly is a tough environment to win. Their crowd gets involved in the game; it's going to be fun. We already know they got some great players in Joel Embiid, James Harden and company, so it's going to be another test again. We're going to have to be ready to fight again and I'm up for it. I can't wait.
--Field Level Media