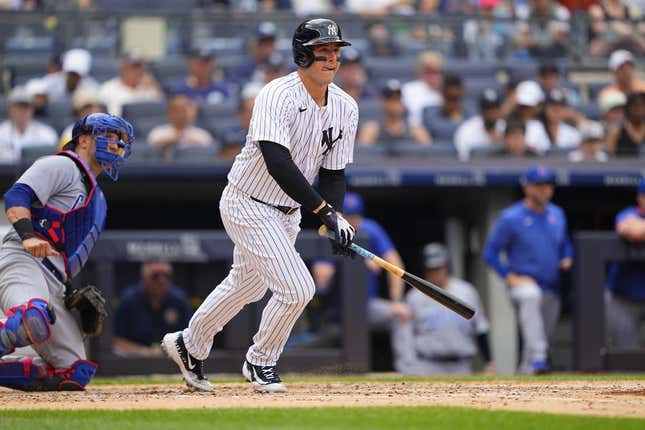 The New York Yankees begin the second half of the 2023 season far from the Bronx, but they are generating a lot of talk back home
How running an NFL team is like running a restaurant | Chef Emeril Lagasse
In the last week, New York fired its hitting coach, hired another and added advertisements to its historic uniform, which has created plenty of mixed reactions from fans who might perceive the Yankees have sold out
Oh, and New York is also getting back on the baseball field on Friday night in Denver when they open a three-game series against the Colorado Rockies
Normally the Yankees coming to Colorado would be the biggest draw of the weekend, but with Taylor Swift playing at the Denver Broncos' stadium on Friday and Saturday night, baseball has taken a back seat for two days. Still, Coors Field is expected to be packed with New York fans eager to see their team start a push for the postseason
The Yankees' starter for Friday, left-hander Carlos Rodon (0-1, 3.38 ERA), has faced the Rockies four times in his career and has posted a 2-1 record and a 4.22 ERA. In his only start in Denver, Rodon was roughed up for six runs in 5 1/3 innings
Rodon has a tough task, but he likely will be overshadowed by new hitting coach Sean Casey, who replaced Dillon Lawson. The Yankees fired Lawson last Sunday soon after they lost to the Chicago Cubs
The Yankees' .231 average ranks 28th in the majors, just ahead of Detroit and Oakland, so they felt a change was needed, and Casey is eager to get started
"I think I should come in hot and firing," he said at his introductory press conference. "I'm not crazy enough to think that I'm going to come in and all of a sudden all nine guys are going to start hitting because Sean Casey has arrived. ... We're going to figure out a way to get these guys going as a unit."
The Rockies have been trying to figure out how to get going all season, but they haven't sustained it in what is another lost summer for the franchise. Colorado is in last place in the National League and has the third-worst record in the majors
The one bright spot so far has been Elias Diaz, who became the first catcher in franchise history to be named to the NL All-Star team. Diaz made the most of it by hitting a game-winning homer in the Midsummer Classic on Tuesday night to earn MVP honors.
He is the first player in franchise history to win the award.
"Obviously I was aware that I was the first Rockies catcher to be an All-Star; I took a lot of pride in that," Diaz said. "I wanted to make the Rockies proud and put my name on the map, and now history is continuing to write itself with the MVP.
Diaz's next act is behind the plate on Friday night for Austin Gomber (7-7, 6.40), who has never faced the Yankees. Gomber has won his last three starts and lowered his ERA from 7.25 to 6.40 in that span
--Field Level Media