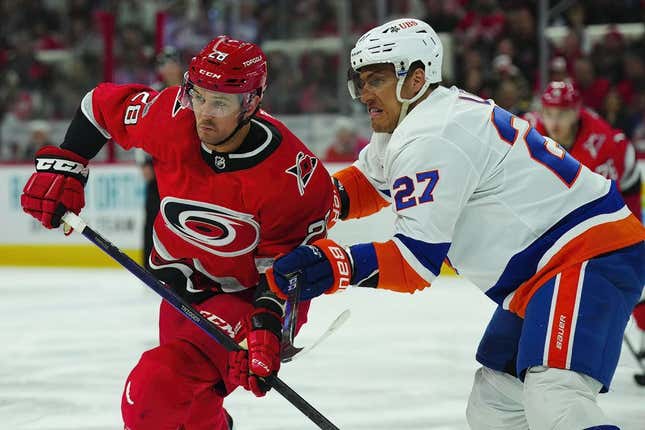 With their season on the line Tuesday night, the New York Islanders went with the same lineup they put on the ice in a lopsided Game 4 loss two days earlier
But presented with a second chance to close out the Islanders, might the Carolina Hurricanes be pondering a change in net
Intrigue surrounds the Hurricanes heading into Friday night, when they will try to advance to the second round while the Islanders will be aiming to stave off elimination again when New York hosts Carolina in Game 6 of an Eastern Conference quarterfinal series in Elmont, N.Y
The Hurricanes lead the series three games to two after the Islanders extended their season Tuesday night, when Ilya Sorokin made 34 saves in a 3-2 win in Carolina
While head coach Lane Lambert tinkered with the lines mid-game Tuesday -- swapping first- and third-line centers Bo Horvat and Jean-Gabriel Pageau -- the victory served as a reward for Lambert's refusal to overhaul the lineup following a 5-2 loss in Sunday's Game 4.
"There was no, for lack of a better term, panic in our game," Lambert said Tuesday night. "We just made sure that we stuck to our plan. We knew we needed a couple saves to go home. Certainly, we did that. I thought we just played pretty steady and pretty solid and we battled."
The Islanders, who didn't clinch a playoff berth until defeating the Montreal Canadiens in their season finale April 12, are trying to overcome a three games to one deficit in a best-of-seven series for the first time since they beat the Washington Capitals in the 1987 Patrick Division semifinals
"It's a resilient group," Islanders captain Anders Lee said Tuesday. "Our road just to get in wasn't easy. We had to pull ourselves out of a hole after some tough stretches. But we believe in this group and what we can do and how we can play.
While both teams have scored 14 goals in the first five games, goalie Antti Raanta hasn't been a problem this series for the Hurricanes. The Islanders have scored three goals or fewer in every game except Game 3, when they scored four goals in a record-setting flurry of 2:18 late in the third period of a 5-1 victory on April 21
In addition, Raanta's save percentage in the series is .906, right in line with his season average of .910. But backup Frederik Andersen, who battled an illness and an upper-body injury earlier this series, stood in a net by himself during practice Thursday.
Afterward, head coach Rod Brind'Amour didn't rule out the possibility Andersen could start Friday.
"There's a chance," Brind'Amour said.
Raanta has yet to make more than five straight starts this season. During the regular season, he also fared better at home (11-0-1 with a .916 save percentage) than on the road (8-3-2, .905).
Regardless of who starts in net Friday, the Hurricanes will take the ice knowing how difficult it is to close out a series. Carolina squandered series leads of 2-0 and 3-2 in a seven-game loss to the New York Rangers in the Eastern Conference semifinals last spring
"It's the hardest one to win, the last one -- you know they're playing with no tomorrow," Hurricanes forward Jordan Martinook said Thursday. "You know they're going to have their best game and we're going to have to bring everything we've got to try and close it out (Friday).
--Field Level Media