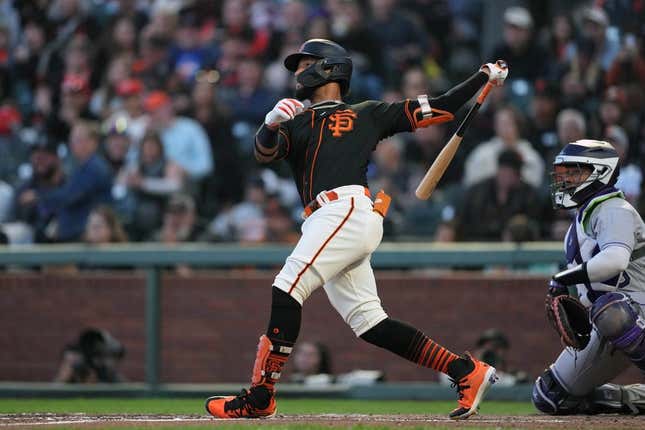 The San Francisco Giants will go for their first three-game series sweep in more than a month when they host the last-place Colorado Rockies again on Sunday night.
How running an NFL team is like running a restaurant | Chef Emeril Lagasse
The Giants (72-70) have gotten hits from 11 different players in 9-8 and 9-1 wins in the first two games of the series. Five different players have belted home runs.
The winning streak follows a six-game skid that had dropped the Giants three teams removed from the National League's final wild-card spot.
The two wins have allowed them to catch one team — the Cincinnati Reds — and another win Sunday, coupled with a Miami loss at Philadelphia, would push San Francisco into a tie with the Marlins for the "first team out" distinction.
The Giants will hand the ball to right-hander Keaton Winn (0-2, 3.33) for the series finale.
Winn has made six appearances as a Giants rookie this season, two as a starter. He went a total of 10 innings in those starts and suffered both his losses after allowing five runs.
The 25-year-old has never faced the Rockies.
Winn can only hope for the type of support the Giants afforded starters Kyle Harrison and Logan Webb in the first two games of the series. In Winn's first two starts, San Francisco scored a total of one run.
After watching his club struggle to put up a total of 14 runs during their six-game skid that led into the homestand, Giants manager Gabe Kapler has witnessed an embarrassment of riches from an attack that's been nearly as potent at the bottom as at the top.
San Francisco's eighth and ninth hitters have combined for six hits, five runs and four RBIs in the two wins, while the top two batters have chipped in 11 hits, five runs and eight RBIs.
Luis Matos, who batted leadoff on Friday and then ninth on Saturday, and Mike Yastrzemski, who came off the bench in the 8-spot Friday before leading off Saturday, have enjoyed the best of both worlds.
"We've been leading up to this," Kapler said. "This is the product of having more of a full bench. The depth is not just in the lineup, it's been the bench, too."
Having dropped 15 of their past 18 games, the Rockies (51-90) will hope right-hander Peter Lambert (3-6, 5.03) ends the team's six-game trip on a positive note. The 26-year-old hasn't won any of his past three starts, in which Colorado mustered just six runs combined.
The last time he faced the Giants, on June 6, Lambert entered in relief and gave up three runs on three hits and four walks in 1 1/3 innings of a 10-4 home loss.
Lambert has faced the Giants four times in his career, three times as a starter, pitching to a 5.82 ERA while getting no decisions.
With his team having suffered its 90th loss Saturday, with 100 in sight, Rockies rookie Nolan Jones has taken time during the series to look ahead to better days.
"One day, I want that matchup to be for a trip to the World Series," Jones said of a ninth-inning at-bat against Giants closer Camilo Doval on Friday. "I think every situation we're put in, especially on the road for younger guys, it's a good learning situation."
—Field Level Media