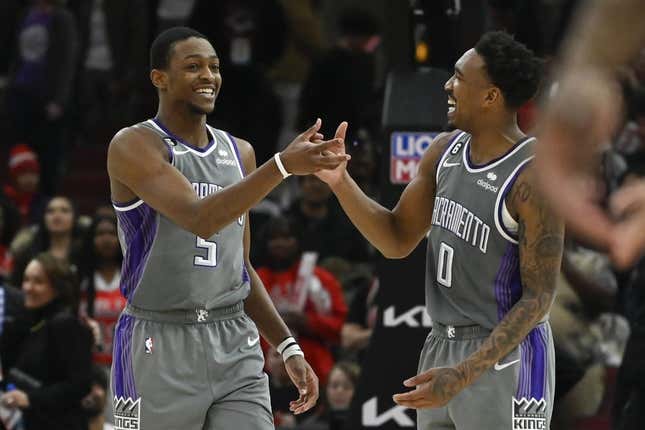 Excuse the Sacramento Kings if they show up to Friday's game against the host Portland Trail Blazers with a bad case of clinching hangover
Chris Paul should ride the bench next season | Keep it a Buck(et)
The Kings ended the longest postseason drought in NBA history -- 16 seasons -- when they clobbered the Trail Blazers 120-80 on Wednesday in the first contest of the two-game set
All-Star point guard De'Aaron Fox, in his sixth season with Sacramento, was just 8 years old when the Kings last made the playoffs in 2006
"Definitely with this team, I think you're just playing for a higher purpose," Fox said after the playoff spot was clinched. "And I think we have a team that's capable and we know that we can continue to get better."
Sacramento (46-30) is just two games behind the Memphis Grizzlies in the battle for the No. 2 seed in the Western Conference.
Kings coach Mike Brown has been cautioning his players that everything will ramp up when the postseason arrives. But first, he wants the squad to appreciate ending the longest current drought in major professional sports
"Our guys are excited about it," Brown said. "They're excited about the way that they played (Wednesday night) and the accomplishments that they've had so far. ... But in the same breath, and not to downplay anything, they expect more."
Malik Monk came off the bench to score 19 points to pace the Kings while Fox had 18 points and Kevin Huerter tallied 17
Keegan Murray knocked down three 3-pointers during a 13-point effort to set an NBA rookie record of 188 treys. He passed the mark of 187 held by Donovan Mitchell of the Utah Jazz in 2017-18.
"Breaking any type of records at the highest level in anything you do is absolutely amazing," Brown said. "And to see Keegan do that, with the way he's played all year and how hard he's worked, was an amazing feat. You don't take that for granted. That is hard to do when you're talking about the history of something."
The depleted Trail Blazers (32-44) have dropped four straight games and 10 of their past 11
Portland trailed by just five points in the third quarter on Wednesday before the Kings went on a 37-8 run to turn the game into a laugher
"Biggest difference was in the second half, they started making 3s, and they're that type of team," Trail Blazers coach Chauncey Billups said. "They're going to play the same way. They're going to shoot a lot of 3s, and miss or make, they're going to play that way. We just couldn't keep up.
The Trail Blazers used just seven players during the setback. Star Damian Lillard (calf) is done for the season and fellow starters Jerami Grant (quadriceps), Jusuf Nurkic (knee) and Anfernee Simons (foot) are also sidelined
Portland also was without Keon Johnson (fractured finger), Cam Reddish (back) and Trendon Watford (ankle).
Rookie Shaedon Sharpe scored a career-high 30 points and also had seven rebounds and seven assists. Sharpe has taken advantage of increased playing time due to Lillard and Simons being out by averaging 23.8 points and 6.6 rebounds over the past five games.
Sharpe made a career-best six 3-pointers against the Kings and has made four or more three times during the stretch. The assist total was also his best as he handled more of the ball-handling duties
"I felt like I did a pretty good job of getting everyone organized, both offensively and defensively." Sharpe said. "I was just trying to get the ball to the person that's hot and trying to make plays for everyone."
Friday's contest is the last of a five-game homestand for the Trail Blazers. They lost the first four by an average of 27 points, including setbacks of 28, 34 and 40 points
--Field Level Media