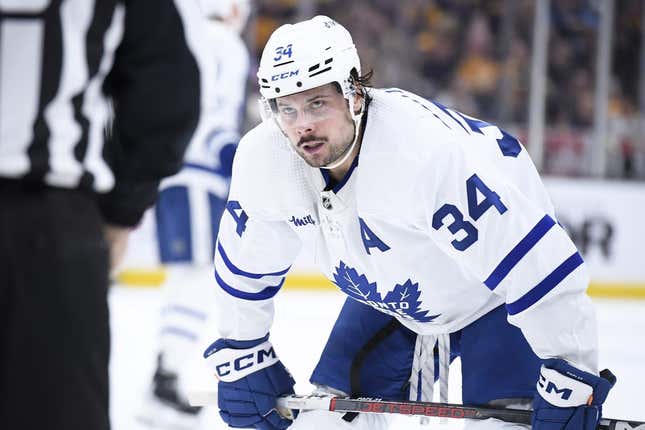 With home-ice advantage clinched for the first playoff round, the Toronto Maple Leafs can afford to look beyond Saturday night's game against the visiting Montreal Canadiens
Bass' ERA stinks, but not compared to who he is off the mound | Worst of the Week Countdown
The Maple Leafs (46-21-11 103 points) earned a point from their 2-1 overtime road loss to the Boston Bruins on Thursday, which was enough to secure second in the Atlantic Division when the Tampa Bay Lightning lost to the New York Islanders that night
The Maple Leafs will have home-ice advantage when they meet the Lightning in the opening playoff round
"It's another checkpoint, if you will, like we talked about when you clinch a playoff spot," Maple Leafs coach Sheldon Keefe said. "That's an accomplishment along the way. Getting home ice, it's another thing where you are in position to do that in a very competitive division, so you might as well make that happen, too.
Sam Lafferty gave Toronto the lead in the second period, Charlie Coyle tied the game in the third and David Pastrnak won it with his 57th goal of the season.
While the Bruins and Maple Leafs look ahead to the postseason, the Canadiens (31-42-6, 68 points) are playing out the regular season. They halted a four-game losing streak Thursday with a 6-2 victory over the visiting Washington Capitals
Still, the game against Montreal could prove useful for a player like Toronto forward Ryan O'Reilly. He played 17 minutes on Thursday after missing 14 games with a broken finger as he works to regain top form for the playoffs.
"Great to be back. It's the most fun I've had in a long time. Just being out there and being competitive, especially against that team," O'Reilly said after the game against Boston. "A real tight game. It was tight everywhere and it felt great to be back.
"Overall, for my game, I did some good things, still was kind of fighting the puck a bit and timing was a little off on certain things, but for the most part I felt great."
For Montreal on Thursday, Joel Armia had a hat trick (including an empty-net goal), while Nick Suzuki, Brendan Gallagher and Mike Hoffman also scored.
The Canadiens have been hit hard by injuries so their lineups have undergone constant change
"When you have all these guys coming in, you want to make them feel comfortable and help them as much as you can," Suzuki said. "It seems like the guys do a good job of welcoming everyone. We've got a really good group of guys here and the culture that we've been building can be special and I think we've shown that."
The Canadiens have failed to make the playoffs for the second consecutive season since they reached the Stanley Cup Final during the COVID-shortened season
"It hasn't been easy," said defenseman Mike Matheson, who contributed three assists Thursday. "There's been a lot of negativity in the last few days and couple of weeks with all the losses -- and they've been tough losses, too. So, we really haven't been happy with the way we were playing. As much as it doesn't matter in the grand scheme of things, I think it was great to just get a nice, solid win."
--Field Level Media