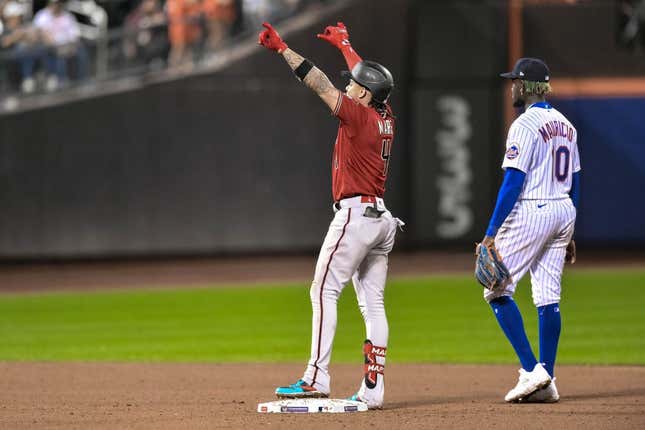 With less than three weeks left in the regular season and holding a precarious grip on the National League's third and final wild-card spot, the Arizona Diamondbacks care only about wins, not style points.
Is Texas or Florida State a bigger national title contender? | Agree to Disagree
The Diamondbacks will look to continue their September surge on Tuesday night when they visit the New York Mets in the second game of a four-game series.
Ryne Nelson (7-7, 5.30 ERA) is slated to start for the Diamondbacks against fellow right-hander Jose Butto (0-2, 3.86).
The Diamondbacks maintained their lead in that race for the last wild card Monday night when Ketel Marte's tiebreaking double in the top of the ninth inning capped a 4-3 comeback win.
With their fifth win in six games, the Diamondbacks (76-69) opened a 1 1/2-game lead over the Miami Marlins (74-70) and remained the same distance ahead of the San Francisco Giants (74-70). The Marlins lost to the Milwaukee Brewers 12-0 while the Giants edged the Cleveland Guardians 5-4 in 10 innings.
Arizona remained two games behind the Cubs (78-67), currently the holding the second wild-card spot, after Chicago beat the Colorado Rockies 5-4.
The latest victory was anything but easy for the Diamondbacks, who took and relinquished a 2-0 lead in the fourth. Arizona trailed 3-2 in the eighth before ex-Mets outfielder Tommy Pham hit a solo homer to tie the game.
Another former New York player, closer Paul Sewald, navigated an interesting ninth inning en route to his 33rd save. He walked two batters but left the would-be tying and winning runs in scoring position when he retired Brandon Nimmo on a fly to center for the final out.
"There's a group that didn't allow us to lose the game," Diamondbacks manager Torey Lovullo said. "But after Tommy hit the home run, I felt like we were right where we needed to be."
Starting Butto against a contender will continue Mets manager Buck Showalter's attempts to strike a delicate balance — trying to field the most competitive roster possible in games that are pivotal for opponents while also getting a look at players who could help New York next season.
The Mets (65-78), whose tragic number for being eliminated from wild-card contention is nine, are in the midst of a season-ending stretch of 23 straight games against teams in the playoff race.
Butto, who is out of options after this season, made the most impressive of his six major league outings on Wednesday, when he gave up two runs over 6 1/3 innings in the Mets' 3-2 loss at Washington. The 25-year-old hadn't pitched more than five innings in any of his four previous outings this season.
"What we're trying to accomplish, I think we can do both," Showalter said Monday night. "But it's a juggling act, trying to be fair ethically but also be fair to us. Trying to get looks at guys and trying to get ahead of things, because every game gives you a better catalogue, so to speak. Because obviously we're going to have some decisions to make between now and next April."
Butto has never opposed the Diamondbacks.
Nelson earned a win on Thursday when he allowed one run over 5 2/3 innings as the Diamondbacks beat the Cubs 6-2. The rookie took the defeat in his lone start against the Mets, when he gave up a career-high seven runs in three innings in Arizona's 9-0 loss on July 6.
—Field Level Media