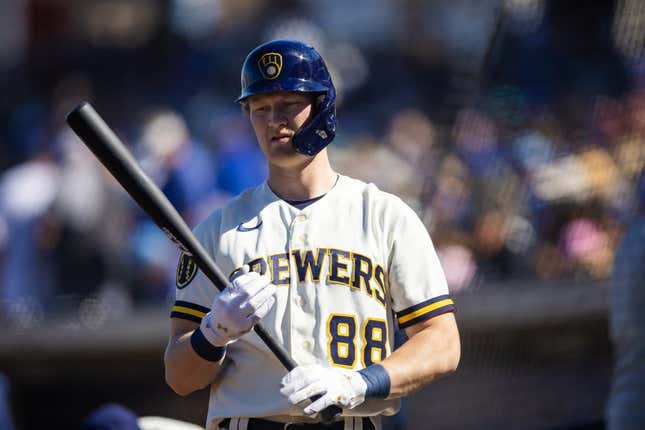 Rookie outfielder Joey Wiemer was expecting to spend at least the next few weeks playing for the Milwaukee Brewers' Triple-A team in Nashville
Are the Oakland A's a failed state? | Agree to Disagree
Instead, he'll gain valuable experience at the major league level.
Wiemer could be in the lineup again on Sunday when the visiting Brewers face the Chicago Cubs in the rubber match of a season-opening, three-game series
The 24-year-old was promoted before Saturday's game to replace infielder Luis Urias, who suffered a left hamstring strain in the opener and is expected to miss six to eight weeks.
"It is what it is. It's baseball, it's life," Urias said. "Sometimes things don't go your way, but what can we do? We move forward and take it day by day and just try to get back as soon as possible."
Brian Anderson is expected to play more at third base in place of Urias, while Wiemer could see regular playing time in the outfield.
A fourth-round pick by the Brewers in 2020, Wiemer hit .262 with two home runs and four RBIs in 18 games during spring training
"He made an impression in spring," Brewers manager Craig Counsell said. "I didn't really have him on the radar to make the team out of camp just because of everything that was around him, and he made a really good impression
"There's a lot to what he does, and he can do it in a number of different ways. And that shows up every day."
Wiemer doubled for his first major league hit on Saturday in two at-bats, and the Brewers won 3-1 after scoring three times in the eighth inning. Wiemer played center field
Left-hander Eric Lauer (11-7, 3.69 ERA in 2022) will take the mound for Milwaukee on Sunday. He is looking to build on his success from last season, when he had 29 starts and posted career highs in wins, innings pitched (158 2/3) and strikeouts (157).
Lauer is 2-1 with a 4.66 ERA all-time vs. the Cubs
Chicago will turn to right-hander Jameson Taillon, who signed a four-year, $68 million contract with the Cubs in December. Taillon, 31, went 14-5 with a 3.91 ERA in 32 starts with the New York Yankees last season. He is 3-5 with a 3.55 ERA in his career against the Brewers
After visiting Wrigley Field numerous times early in his career as a member of the Pittsburgh Pirates, Taillon is looking forward to making his Cubs' home debut
"I'm really excited, a little bit nervous just going to a place for the first time on the home side, not knowing where to park or what door to go in or where my locker is and all that," Taillon said.
Chicago shortstop Dansby Swanson had three hits Saturday and is 6-for-8 to begin the season. Swanson signed a seven-year, $177 million contract with the Cubs during the offseason and brings a positive veteran presence to the clubhouse
"We have a lot of confident people on the team, guys that have won previously and know what it takes," Chicago pitcher Drew Smyly said. "We have some young guys with a lot of talent and some veteran players with a lot of experience. Everyone on this team is very excited to put all that together and go see what happens."
--Field Level Media