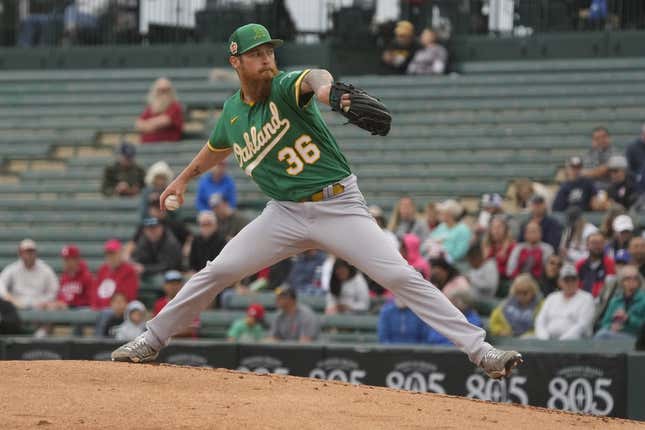 The Oakland Athletics will go for a four-game split when they visit the Baltimore Orioles Thursday afternoon
Air Jordans are more American than McDonald's French fries | Deon Cole's Ultimate Sports Fantasy
Oakland snapped a six-game losing streak with an 8-4 win on Wednesday night.
Right-hander Adam Oller (0-0, 4.66 ERA) starts for the A's, and he'll be opposed by Orioles left-hander Cole Irvin (0-2, 9.35), who will be facing his former team
Irvin has struggled in his first two starts this season. Last time out, he gave up three earned runs in 4 2/3 innings of a loss to the New York Yankees. He allowed four hits and issued a career-high-tying four walks.
"I mean, I'm not missing by much," Irvin said after the loss. "It's not like I'm airmailing or throwing balls in the dirt very often. It's just an adjustment. It's part of my job to throw strikes and get outs, and I didn't throw enough strikes. ... I know there was some success today that I need to look at and build on."
Plagued by short stints by their starting pitchers, the Orioles would love to see five-plus innings from Irvin
Oller will make his first start of the season. His last long-relief outing was solid as he held the Tampa Bay Rays to one run on two hits over five innings. He struck out three and walked three. Oller was 2-8 with a 6.30 ERA in 19 games (14 starts) last season.
On Wednesday, the Orioles rallied for two runs in the seventh inning to tie the game 4-4 and appeared to have the momentum, but Oakland struck for three in the eighth and one in the ninth against the Orioles bullpen
Carlos Perez had three hits including a home run and Brent Rooker homered, singled and drove in three runs for Oakland, which plated eight runs for the second straight game.
Oakland collected 15 hits, 12 of them singles.
Chad Smith (1-0), called up from Triple-A Las Vegas on Wednesday, pitched two scoreless innings. He was given the win because reliever Jeurys Familia, who was in the game when the A's took the lead, was deemed to have had a brief, ineffective outing after giving up the lead in the seventh.
"He got to the ballpark at 2:30 this afternoon, and for him to step up and come in and pitch two innings and get his first big-league win, it's a testament to the young man," A's manager Mark Kotsay said of Smith.
Rooker is 5-for-10 with a homer, four RBIs and two runs scored in his past three games.
Baltimore starter Dean Kremer went 4 1/3 innings, allowing four runs on five hits. Kyle Gibson (twice) and Tyler Wells remain the only Oriole starting pitchers to last more than five innings in a game this season.
"We've just got to be able to put guys away a little bit earlier," manager Brandon Hyde said. "We've got to be able to get some early contact."
Baltimore relievers allowed four runs in 4 2/3 innings Wednesday and, through 12 games, the Orioles bullpen has accounted for 49 1/3 innings. Baltimore has been outscored 15-2 in the eighth and ninth innings this season
"We're pretty taxed in the pen," Hyde said.
--Field Level Media