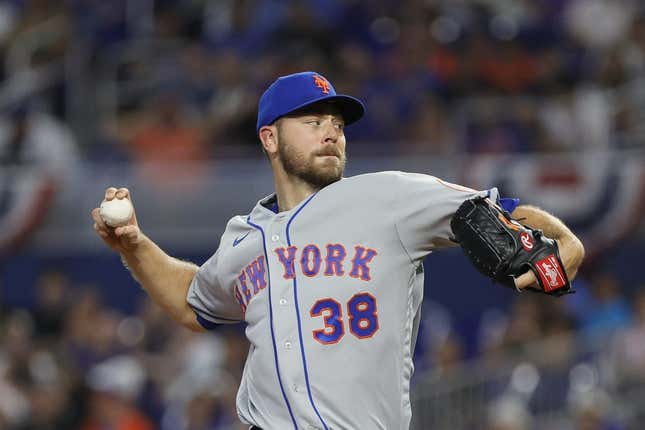 The last time the New York Mets played at home, they had trouble generating consistent offense and their starting pitchers struggled at the most inopportune time
Bass' ERA stinks, but not compared to who he is off the mound | Worst of the Week Countdown
The Mets begin their home schedule anew on Friday afternoon against the Miami Marlins to kick off a three-game series
Tylor Megill (1-0, 3.60 ERA) is slated to take the mound for the Mets against Edward Cabrera (0-0, 4.50 ERA) in a battle of right-handers opposing each other for the second time this season
The game was originally scheduled to be played Thursday afternoon but was postponed due to a rainy forecast in the New York area.
Both teams played Wednesday afternoon when the visiting Mets absorbed a 7-6 walk-off loss to the Milwaukee Brewers and the host Marlins won the clinching game of a three-game series by beating the Minnesota Twins 5-2
Rookie Garrett Mitchell's homer leading off the ninth inning completed the Brewers' three-game sweep of the Mets, who were outscored 19-0 in consecutive shutout losses on Monday and Tuesday. The 20-run margin of defeat over three games was the largest for the Mets since they were outscored 27-7 while being swept by the Marlins from Sept. 18-20, 2017
The sweep at the hands of the Brewers also conjured up memories of the Mets' three-game loss to the San Diego Padres in a National League wild-card series last October. New York was outscored 16-8 and was one-hit in the decisive Game 3, when Joe Musgrove combined with two relievers in San Diego's 6-0 win
"You don't want to go out there and lose," Mets shortstop Francisco Lindor said. "At the end of the day, (the Brewers are) a good team and they outplayed us. (On Friday) we've got to come back and put on a better show than we have the last couple days.
Back-to-back wins over the Twins allowed the Marlins to snap their early skid. Miami lost three straight to the Mets and Minnesota by a combined score of 22-4 before Sandy Alcantara authored a complete game in a 1-0 win on Tuesday night -- a gem that lasted just one hour and 57 minutes
The Marlins were locked in another tight pitcher's duel Wednesday afternoon before snapping a tie with a four-run eighth inning, when Bryan De La Cruz delivered an RBI single immediately before Jorge Soler hit a three-run homer
Soler has three homers -- one fewer than the rest of his teammates combined.
"Luckily, we've got some guys in the lineup who can make you pay and do some damage, especially in the middle there," Marlins manager Skip Schumaker said
Megill and Cabrera made their season debuts in the Mets' 6-2 win last Saturday. Megill allowed two runs over five innings while Cabrera gave up two runs in four innings
Megill is 1-1 with a 4.91 ERA in three games (two starts) against the Marlins. Cabrera is 1-1 with a 6.63 ERA in five starts against the Mets
--Field Level Media