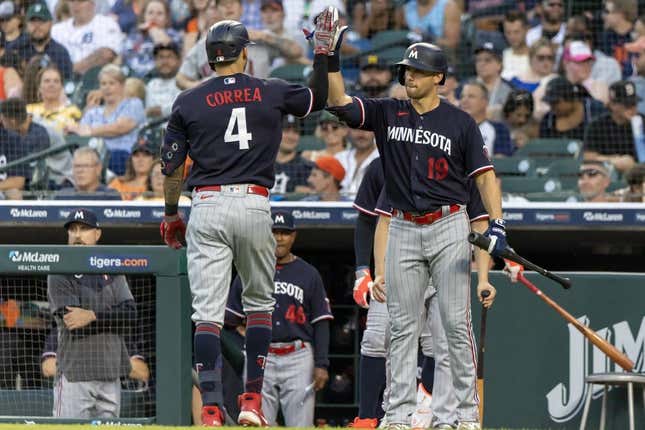 The Minnesota Twins and host Detroit Tigers will have a quick turnaround after their night game on Saturday
How running an NFL team is like running a restaurant | Chef Emeril Lagasse
The teams were supposed to play the finale of a three-game series at 1:40 p.m. ET on Sunday. It's now scheduled for 12:10 p.m. due to the threat of inclement weather later in the afternoon.
Detroit snapped the Twins' three-game winning streak with a 3-2 victory on Saturday. The Tigers scored all of their runs in the second inning, including two on Zach McKinstry's RBI single, and hung on
The Twins likely will be without designated hitter Byron Buxton, who exited Saturday's game with back spasms
Bailey Ober will start the series finale for the Twins. Ober (4-4, 2.83 ERA) has delivered six quality starts in 11 outings this season, but Minnesota is 2-4 in his past six starts
The 6-foot-9 right-hander allowed three runs and eight hits in six innings against Boston on Tuesday. Adam Duvall and Christian Arroyo hit solo homers off him in a 10-4 Red Sox victory.
"I felt good. They put two good swings on me pretty much the whole game. The rest were weak-hit singles, basically," Ober said.
The Twins have scored three or fewer runs in seven of the games Ober has started
"I'm not thinking about it," Ober said of the lack of run support. "I'm not going to pitch any different. ... I didn't walk anyone (Tuesday). Felt like I attacked these guys. I thought I pitched really well. It was really sharp."
Ober hasn't faced the Tigers this season. He's made four career starts against Detroit, going 1-1 with a 5.68 ERA
Tigers starter Michael Lorenzen (2-5, 4.00) has been charged with a loss in each of his past three outings but he deserved a better fate on Tuesday. Lorenzen limited Kansas City to one run and six hits in six innings but that was the only run in the game. Lorenzen also recorded seven strikeouts, tying his season high
"He made some big pitches with guys on base and really left it out there, which I can really appreciate," Tigers manager A.J. Hinch said. "He did his part, especially responding to quite a few baserunners that weren't all his fault.
Lorenzen had been charged with six runs in each of his previous two outings.
"Just keep my mind quiet and not try to do too much," Lorenzen said of his strong outing against Kansas City. "Just keep making pitches. I've had trouble with that past games, trying to do too much, getting behind guys and trying to make better pitches than we need to. I was just trying to pick up some of the guys and continue to make pitches."
Lorenzen will be starting against the Twins for the first time. He's made three career relief appearances, tossing a total of six innings while posting a 1-0 record and 1.50 ERA
Following Sunday's contest, the Tigers will embark on a seven-game road trip that begins at Texas on Monday. The Twins will continue their nine-game journey at Atlanta on Monday
Minnesota and Detroit won't face each other again until early August when the Tigers host a four-game series
--Field Level Media