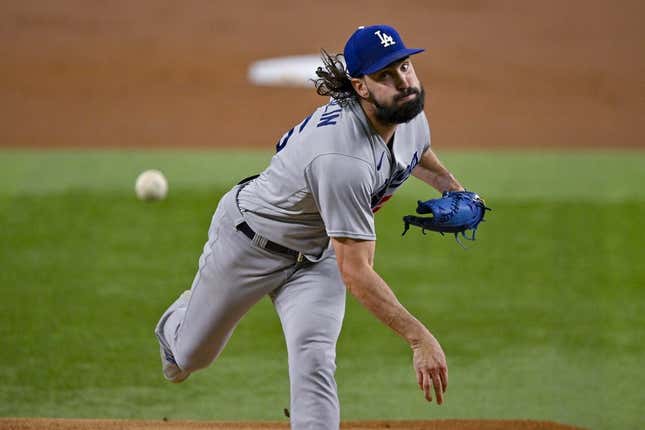 The Los Angeles Dodgers are moving forward with a revamped starting rotation, although it isn't exactly the group the club tried to assemble
Is Texas or Florida State a bigger national title contender? | Agree to Disagree
The Dodgers and visiting Oakland Athletics will meet Wednesday night in the middle game of a three-game series, one day after Los Angeles earned a 7-3 victory behind seven strong innings from Lance Lynn and a three-run double from Enrique Hernandez. Both were acquired in trades last week
The Dodgers will have right-hander Tony Gonsolin (5-4, 4.25 ERA) on the mound Wednesday trying to follow Lynn's lead. Not only was Lynn acquired from the Chicago White Sox last week, but Ryan Yarbrough was brought in just before the deadline passed in a deal with the Kansas City Royals
The Dodgers did inquire about veteran right-hander Justin Verlander, who made it known that he preferred to go to the Houston Astros instead, while Eduardo Rodriguez of the Detroit Tigers invoked his no-trade rights to veto a deal to the West Coast
"There were a couple guys that we aggressively pursued, and that's how it goes," said Andrew Friedman, the Dodgers' president of baseball operations. "From our standpoint, we feel really good about the team that we have and the depth we have behind it. That said, you always want to feel even better.
Another piece of the Dodgers' rotation is due back soon as Clayton Kershaw is close to coming back from a shoulder injury
Gonsolin will make his 17th start of the season after returning from his own injury, an ankle sprain that occurred during a spring-training workout. A first-time All-Star last season, he has had a rocky road back to top form with a 1-2 record and a 6.39 ERA in five July starts. He has a 7.25 ERA over his past seven outings
Gonsolin will make his first appearance against the A's
Oakland will counter with rookie left-hander Hogan Harris (2-5, 6.07), who will make his sixth career start and 13th appearance. In his second stint with the A's this season, Harris has pitched well of late
He struggled over his first two July outings but gave up just two runs in each of his last two appearances, one as a starter on July 20 and the other while picking up bulk innings behind an opener last Wednesday against the San Francisco Giants
But Oakland is just 2-10 during Harris' 12 appearances, last winning a game when he pitched on June 13 against the Tampa Bay Rays. He will face the Dodgers for the first time
The A's made a pair of moves Tuesday, sending left-hander Sam Moll to the Cincinnati Reds and shipping utility man Jace Peterson to the Arizona Diamondbacks. Peterson is in the first year of a two-year, $9.5 million deal and was among Oakland's highest-paid players this year
The A's are coming off a series victory at Colorado and played the Dodgers tight into the fourth inning before the game started to slip away. Oakland did get home runs from Zack Gelof, Brent Rooker and Jordan Diaz to pull within a run at one point
"I think there is a level of confidence that wasn't here early on," A's manager Mark Kotsay said. "We talked a lot about, when we were going through April and May, that we needed to stay positive and continue to work. I think that has shown itself in the way we're playing baseball right now.
--Field Level Medi