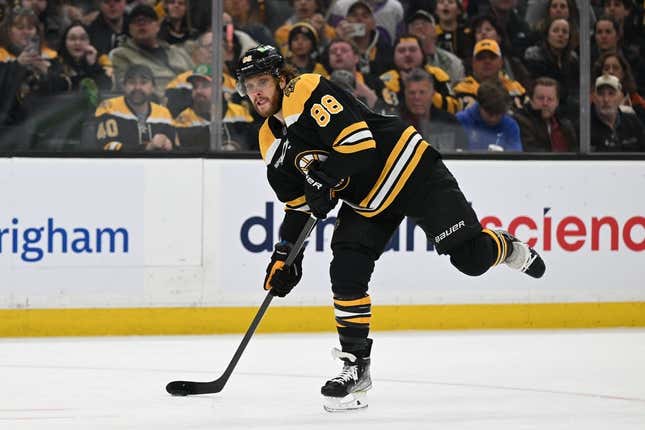 The Boston Bruins have already clinched the Presidents' Trophy, but another stiff test awaits as the regular season winds down
Does Jimmy Butler have the best NBA Finals origin story? | Agree to Disagree
Two nights after edging past the Toronto Maple Leafs in overtime, the NHL-leading Bruins will turn their attention to the visiting New Jersey Devils in a Saturday night showdown
With another win, Boston (61-12-5, 127 points) would match the highest win total in NHL history. The 1995-96 Detroit Red Wings (62-13-7) and 2018-19 Tampa Bay Lightning (62-16-4) currently share that record.
"A lot of players and even coaches, they haven't been in this spot. We've been clinched for so long, so sometimes it's hard to find motivation for the games that sometimes we play outside of playoff teams," Boston forward David Pastrnak said. "We definitely know about (the record) because we're looking for anything to kind of prepare us for playoffs."
Despite feeling under the weather, Pastrnak stepped up and won Thursday's game with his 57th goal of the season and 11th in an 11-game span.
It was Pastrnak's 11th game-winning goal of the season, tied with Edmonton's Leon Draisaitl for the NHL lead. It was also the 11th overtime winner of his career.
"I can't give him enough credit for how he willed himself to help us tonight," Bruins coach Jim Montgomery said
Defenseman Charlie McAvoy was removed from Thursday's game for "precautionary reasons" after a collision with teammate Patrice Bergeron.
McAvoy and forward David Krejci, who was out Thursday with a lower-body ailment, could be held out of the lineup for both weekend games. The Bruins visit Philadelphia Sunday
"Krejci has just got some real soreness right now," Montgomery said. "We want to make sure everyone's feeling really good. When you have some soft tissue and some stuff, you don't want it to get to the point where it's chronic."
The Devils (50-21-8, 108 points) are coming off a high-scoring night, toppling lowly Columbus 8-1 to move within one point of first-place Carolina in the Metropolitan Division
They also reached the 50-win mark for the second time in franchise history and first since 2008-09.
"It's a great accomplishment for our group," Devils coach Lindy Ruff said. "It's not something that we focus on, but it's gotten to a point where we're there and we want to continue to play good hockey. I mean, we're really just prepping for the postseason.
Jack Hughes logged two goals and two assists against the Blue Jackets. His 95 points put him one shy of tying the single-season franchise record that Patrik Elias set in 2000-01.
Hughes extended his point streak to five consecutive games with his first-ever four-point effort and 10th multi-goal game of the season, all while becoming the second-youngest Devil at 21 years old to hit the 200-point plateau for his career.
"The better I do, the better the team does," Hughes said. "Of course, you want that record and I'm going to be here for a lot of years, so I'd like to break it this year, but let's see what happens."
Timo Meier, who had two goals and an assist against the Blue Jackets, joined Hughes at the 40-goal mark. The Devils will have multiple 40-goal scorers at the conclusion of the season for only the second time in franchise history
--Field Level Media