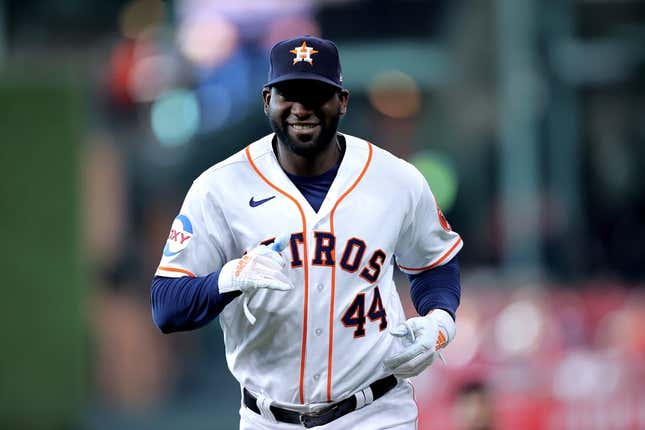 Houston Astros slugger Yordan Alvarez returned to the starting lineup Saturday following a four-game absence tied to neck discomfort. In true Alvarez fashion, he didn't miss a beat
Bass' ERA stinks, but not compared to who he is off the mound | Worst of the Week Countdown
Alvarez finished 2-for-3 with a double and a walk. His production didn't impact the bottom line for the home Astros, who scored a solo run for a third consecutive game in their 6-1 loss to the Philadelphia Phillies. Jeremy Pena homered in a second straight game for Houston
Alvarez returned to Houston in advance of the Astros' three-game road series against the Tampa Bay Rays earlier this week. The club avoided placing Alvarez on the injured list, deferring to team medical personnel and Alvarez to provide updates regarding his readiness
"Depends on the player," Astros manager Dusty Baker said when asked how he evaluates a player relaying that he's ready for action. "Depends how truthful the player is. Some guys want to play no matter what and then I have to supercede the situation
"I was a player too, and I remember what it was like to be hurt or to be injured. And I can tell, I can certainly tell the signs from what I see."
Right-hander Jose Urquidy (1-2, 5.64 ERA) is the scheduled starter for the Astros on Sunday. He labored in his previous start, allowing six runs on seven hits and two walks while recording three strikeouts in 2 2/3 innings in an 8-3 loss to the Rays last Monday. Urquidy has dropped consecutive decisions, allowing 10 runs on 14 hits and four walks with seven strikeouts over seven innings, since tossing six shutout innings at the Pittsburgh Pirates on April 12
Urquidy has faced the Phillies once previously. He gave up two runs on two homers in two innings of relief on Oct. 3
Left-hander Bailey Falter (0-4, 4.50) will start as the Phillies pursue the series sweep. He took the loss in each of his prior three starts, allowing 12 runs (11 earned) on 17 hits and four walks with 14 strikeouts over 17 2/3 innings. Philadelphia has won one of his five starts
Falter has faced the Astros once previously, allowing two hits over one scoreless inning in the Phillies' 3-2 road loss on Oct. 5. Falter did not factor into the decision of that game
Philadelphia placed outfielder Cristian Pache on the 10-day injured list on Saturday after he sustained a right knee meniscus tear in the fifth inning of the series opener on Friday. Pache suffered the injury retreating to second base after taking a secondary lead. His RBI double drove home Edmundo Sosa and delivered the Phillies a 2-1 lead
Pache was batting .360 with one home run and four RBIs in 18 games. The Phillies recalled outfielder Dalton Guthrie from Triple-A Lehigh Valley to replace Pache on the active roster. Pache will undergo surgery and will be sidelined for an undetermined number of games
"I feel for him and for the club because he was really playing well and really improving," Phillies manager Rob Thomson said. "Dalton Guthrie comes up and takes his spot and we'll utilize him basically the same way we did Cristian.
--Field Level Media