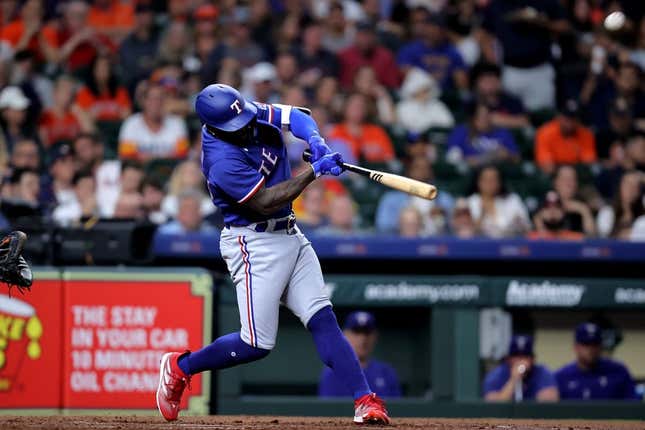 The form the Texas Rangers will take offensively without injured shortstop Corey Seager (hamstring) remains to be seen, but after scuffling in their first game without him on Wednesday, the Rangers took a step in the right direction in the opener of a three-game road series against the Houston Astros on Friday
Aaron Rodgers should go full Joe Namath | Comedian Bert Kreischer
Nathaniel Lowe drove in three runs, Adolis Garcia hit a two-run homer, and the Rangers recorded two two-out hits and a key sacrifice bunt to beat the Astros 6-2 for their fourth win in the past five games. Garcia homered with two outs in the third inning, and Josh Jung added a two-out RBI single in the top of the ninth
And before Lowe delivered a two-run single that lifted Texas to a 5-1 lead in the fifth, shortstop Josh Smith produced a sacrifice bunt that advanced both Leody Taveras and Marcus Semien.
The two teams will be back at it again on Saturday night.
"It's a good offense," Texas manager Bruce Bochy said. "We have to try and pick it up a little bit; we lost Corey. Smitty lays down a perfect bunt to set up two runs there, big runs. It's going to be up to us to play some small ball at times."
Right-hander Jon Gray (1-1, 3.00 ERA) is the scheduled starter for the Rangers on Saturday. With 994 career strikeouts, he is seeking to become the 42nd active pitcher to record 1,000 strikeouts
In his most recent appearance, he allowed two runs on six hits and three walks with four strikeouts over 5 2/3 innings in Texas' 8-2 win over the Chicago Cubs on Sunday.
Gray is 1-2 with a 3.00 ERA in four career starts against the Astros, including 0-2 with a 5.23 ERA in two starts at Minute Maid Park. He surrendered two runs on six hits and two walks with four strikeouts over six innings in a 2-1 road loss to the Astros on May 21, 2022
Right-hander Hunter Brown (1-0, 3.09 ERA) has the starting assignment for the Astros on Saturday. He is coming off the best start of his career, having allowed one unearned run on two hits and two walks with a career-high seven strikeouts in a 5-1 road win over the Minnesota Twins on April 9
Brown faced the Rangers once previously, allowing three hits and one walk while recording five strikeouts over six shutout innings in his major league debut, a 1-0 home win on Sept. 5, 2022. He picked up the win
While the Astros remain weakened offensively by the absences of Jose Altuve (thumb injury) and Michael Brantley (shoulder), their rotation has been compromised by the loss of right-hander Lance McCullers Jr., placed on the injured list with a right-elbow strain to start the season
With McCullers unavailable, and with 2022 American League Cy Young winner Justin Verlander in New York after signing as a free agent with the Mets, the Astros' starting pitching depth is lacking. That issue has been exacerbated by the early-season struggles of right-hander Luis Garcia (0-2), who has yet to produce a quality start in three appearances
Garcia entered Friday having worked a combined nine innings over his first two starts with a 7.00 ERA. Against the Rangers, he allowed five runs on six hits and two walks, with both free passes scoring. He logged only five innings and has yet to find his form
"He's missing, and then when he throws a strike, it's over the heart of the plate," Astros manager Dusty Baker said of Garcia. "And then his pitch count gets high. He's certainly much better than this. Hopefully, he'll be better the next time.
--Field Level Media