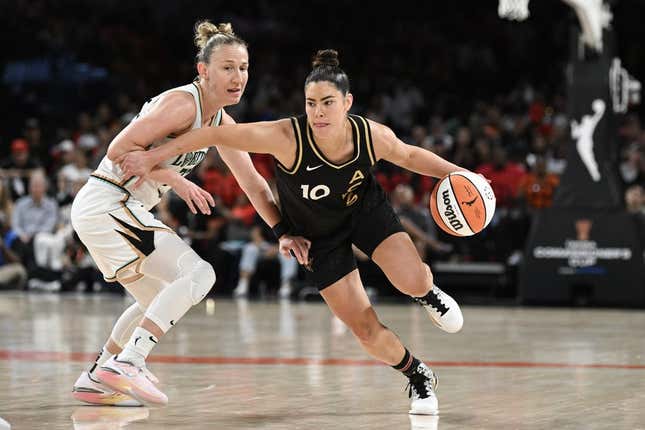 The New York Liberty won the most recent meeting to split the regular-season series with the Las Vegas Aces, who they also routed in last month's WNBA Commissioner's Cup final, but they still aren't feeling the love from oddsmakers.
Is Texas or Florida State a bigger national title contender? | Agree to Disagree
The defending champion Aces are still heavy favorites to repeat as the WNBA playoffs get under way on Wednesday.
Las Vegas (34-6) is currently the -150 favorite at BetMGM, where the Aces opened at +130. They face the eight-seeded Chicago Sky (18-22) in the first round, beginning Wednesday night..
Meanwhile, New York (32-8) faces the No. 7 seed Washington Mystics (19-21) in a series that begins Friday. The Liberty's title odds are currently +145, slightly shorter than the +150 they opened at.
The public remains somewhat split, with the Liberty drawing the most title bets at 17.8 percent, while the Aces have been backed by the most money — their 41.8 percent more than doubling that of the Liberty at 20.4 percent.
With it considered a two-team race, neither of the top two seeds is among the top three title liabilities for the book.
BetMGM's biggest liability in the WNBA title market was the Phoenix Mercury, who failed to even reach the postseason. The second biggest liability is the Mystics, followed by the Connecticut Sun (27-13), who tip off the playoffs with Game 1 of their series at home against the Minnesota Lynx (19-21) on Wednesday.
The Mystics have been backed by 12.6 percent of the title money at BetMGM, where they enter the playoffs as +4000 longshots. The Sun, meanwhile, have drawn the second most money with 17.0 percent as their odds have shortened from +3000 to +2000.
Still, all eyes - and targets - will be on the Aces and Liberty.
Las Vegas enters the postseason following a record 34 regular-season victories, and scored at least 100 points on 11 occasions while setting another record with 25 double-digit victories.
They also ride a four-game winning streak into the postseason.
"If you had said 34-6 to me back in May, I would have jumped at that in a second," Las Vegas coach Becky Hammon told reporters. "And here we are. The amount of energy and effort (the players) put into being professionals, their approach to the game — they were so good."
The Los Angeles Sparks (2001-02) are the most recent team to repeat as WNBA champions.
"Forget everything that happened in the regular season," Aces All-Star Kelsey Plum said. "You have to treat it as a one-and-done type of thing in terms of our sense of urgency."
—Field Level Media