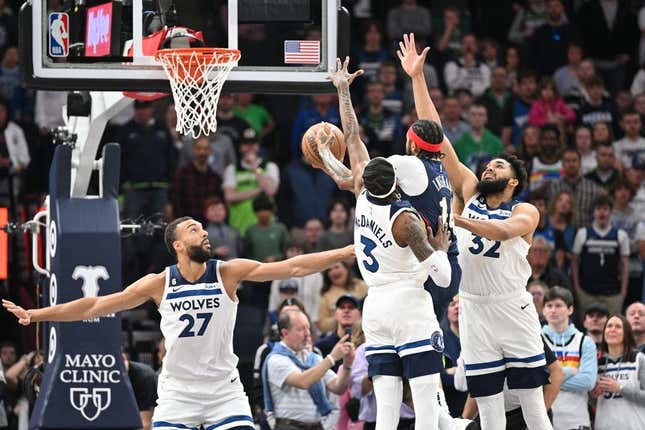 Minnesota Timberwolves center Rudy Gobert was removed from Sunday's game against the visiting New Orleans Pelicans after throwing a punch at teammate Kyle Anderson
'Soccer fandom is full of gatekeepers' says Ted Lasso actor Brendan Hunt
During a second-quarter timeout in Minnesota's 113-108 win, video showed Gobert and Anderson arguing on opposite sides of the huddle. At one point, Gobert reacted to something Anderson said, stepped past Wolves coach Chris Finch and appeared to hit Anderson in the chest.
Before the third quarter began, the Wolves announced Gobert would not play in the second half.
"We made the decision to send Rudy Gobert home after the incident in the second quarter," Timberwolves president of basketball operations Tim Connelly said in a statement after the game. "His behavior on the bench was unacceptable and we will continue handling the situation internally.
Immediately after the incident, teammates went to separate Gobert and Anderson, and a few went to check on Gobert after he left the court. Anderson then replaced Gobert in the lineup.
"It's certainly not something that we condone," Finch said in his postgame news conference. "Veterans can get upset, too. I don't want to be too hard on him, but obviously it's not something we're going to be able to tolerate here. I'm sure he's already remorseful. I haven't had a chance to speak with him about it."
As to whether Gobert will face any discipline, Finch said that would be handled internally.
"We're not proud of that behavior by anybody. Really haven't dug too far into the root cause of it," Finch said. "Guys are just frustrated, we weren't playing well, we weren't sharing the ball. We were getting beat in all the little areas.
"We looked sluggish, like you do on a back-to-back, but I think the gravity of the game made it feel like we were in a little bit of a panic mode. And we're just trying to get calmed down there."
According to a report by ESPN, Wolves forward Jaden McDaniels fractured his right hand late in the first quarter. Video showed McDaniels punching a wall in the tunnel, however, it has not been confirmed if that caused the injury.
With Sunday's win, Minnesota is the No. 8 seed in the Western Conference and will play the Los Angeles Lakers in the play-in tournament.
The winner will play the No. 2 seed Memphis Grizzles in the first round, while the loser will play the winner of the Pelicans-Oklahoma City Thunder play-in game. The winner of that matchup advances to face the top-seeded Denver Nuggets in the first round.
--Field Level Media