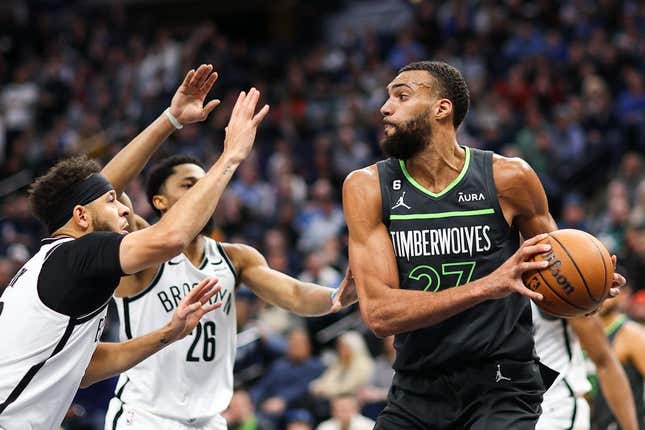 The Minnesota Timberwolves visit the Brooklyn Nets on Tuesday night for a matchup of two teams with potential clinching scenarios
Does Jimmy Butler have the best NBA Finals origin story? | Agree to Disagree
Minnesota (39-40) currently sits ninth in the Western Conference and could assure itself no worse than a spot in the play-in tournament with a win over the Nets coupled with a Utah Jazz loss to the Los Angeles Lakers
Meanwhile, Brooklyn (43-35) would clinch no worse than the No. 6 playoff spot in the Eastern Conference with a win over the Timberwolves and a Miami Heat loss to the Detroit Pistons
The Nets will be seeking a sweep of the season series, having pulled out a 124-123 overtime win at Minnesota last month. Dorian Finney-Smith's 3-pointer with 36.8 seconds remaining broke a tie and sent Brooklyn on to the victory
The Nets have since won just five of 11 games, but three of the victories have come in a much needed current winning streak. To open a four-game homestand that ends Tuesday, the Nets have beaten the Houston Rockets, Atlanta Hawks and Utah Jazz
Sunday's 111-110 win over the Jazz featured a tense finish in which the Nets nearly blew a 23-point, fourth-quarter lead
Afterward, Brooklyn coach Jacque Vaughn saw a positive in a learning experience for a roster that's basically only known each other since the in-season, multi-player trades of Kevin Durant and Kyrie Irving.
"What we take away from this game is: Situations you can't replicate in practice, which is great for us," he noted. "There's only one winner and one loser in every single game. We won. So we're gonna take the win and we're gonna keep this thing moving."
Mikal Bridges had 30 points in the win. He's topped 30 in 11 of his 24 games for the Nets, including 34 in the triumph at Minnesota
The Timberwolves, who just one week ago appeared to be sitting pretty in the Western playoff chase, begin a two-game trip to Brooklyn and San Antonio having lost three straight
They were stunned 107-105 at home by the Portland Trail Blazers on Sunday, a game that ended with Kyle Anderson missing a 3-footer that could have sent it to overtime.
Like the Nets, the Timberwolves appear to be a team undergoing an in-season transition. They also made a key trade at the deadline, acquiring point guard Mike Conley from the Utah Jazz, but their biggest issue of late has been the insertion of Karl-Anthony Towns back into the lineup after he missed 52 games with a strained calf
Towns took just three shots -- a career-low -- in the loss to Portland.
"We talked a lot about KAT trying to fit into the flow of the offense, and I think he was a bit too passive tonight," Minnesota coach Chris Finch observed. "So we needed him to still stay aggressive. I thought in his second shift when he went out there, he drew a lot of fouls, but he wasn't aggressive throughout the rest of the opportunities."
Anthony Edwards had 37 points in the loss to Portland. He had 32 against the Nets last month
--Field Level Media