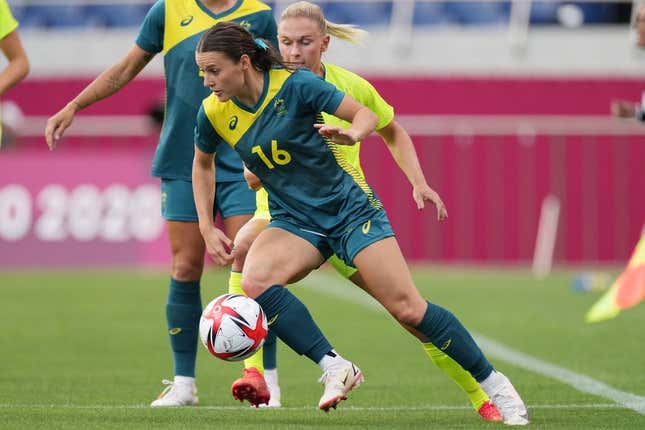 Caitlin Ford and Hayley Raso scored and team captain Sam Kerr made her triumphant Women's World Cup debut in Australia's 2-0 win over Denmark at Stadium Australia on Monday.
Is Texas or Florida State a bigger national title contender? | Agree to Disagree
Co-host Australia advances to the quarterfinals. Denmark's first WWC appearance since 2007 ends in the Round of 16.
Ford tallied in the 29th minute and Raso scored in the 70th to put the match away.
Kerr came in as a substitute in the 78th minute. A calf injury kept her sidelined through group play.
The Aussies will play either France or Morocco in Brisbane on Saturday.
--England 1, Nigeria 0 (PK)
England took the penalty kicks 4-2 to defeat Nigeria and advance to the quarterfinals.
Beth England, Rachel Daly and Alex Greenwood converted on PKs before Chloe Kelly delivered the winning tally for England.
England survived extra time playing with just 10 women after top scorer Lauren James was issued a red card in the 87th minute. James is assured at least a one-game suspension for stomping the back of Michelle Alonzi, who was on the turf face-down, and will miss the quarterfinals.
England will play either Jamaica or Colombia in Sydney on Saturday.
--Field Level Media