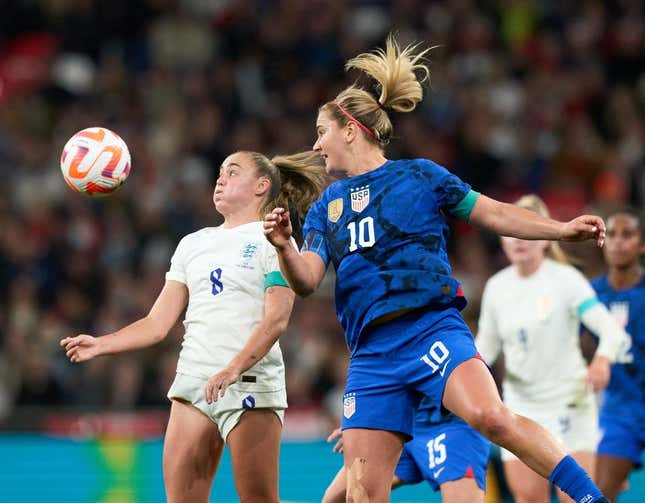 Amalie Vangsgaard scored in the 89th minute, giving Denmark a 1-0 win against China in its first Women's World Cup match since 2007 on Saturday in Perth, Australia.
Is Texas or Florida State a bigger national title contender? | Agree to Disagree
The two teams, paired in Group D, played a thriller, despite the lack of scoring. Vangsgaard's goal came on a header that goalkeeper Huan Xu couldn't reach before the ball landed in the corner of the goal.
The score came on Denmark's first shot on target in the match. The Danes held possession of the ball for 56 percent of the time.
The match was the opening game for both teams, who return to action Friday. Denmark (1-0-0) will face England (1-0-0), while China (0-1-0) will meet Haiti (0-1-0).
England 1, Haiti 0
Georgia Stanway converted her second-chance penalty shot to give England the win in a Group D clash in Brisbane, Australia.
England possessed the ball 72 percent of the game and had chances to score, but Haiti goalkeeper Kerly Theus made nine saves. And Theus stopped Stanway's first penalty shot in the 29th minute, but after the referee ordered a retake, that kick slipped past Theus.
England entered the game considered a favorite to win the Cup but had all it could handle from Haiti, which made its debut in World Cup play.
Japan 5, Zambia 0
Japan shut out Zambia, making its Women's World Cup debut, in Group C play in Hamilton, New Zealand.
Hinata Miyazawa scored twice for the experienced squad from Japan, which won the 2011 World Cup and was the runner-up in 2015.
Miyazawa started the scoring in the 43rd minute, and Team Japan kept the pressure on Zambia after the half. Mina Tanaka added a goal in the 55th minute before Miyazawa scored again 16 minutes later.
Jun Endo and Riko Ueki added goals for Japan. Ueki's score came following a penalty in stoppage time after Zambia goalkeeper Catherine Musonda was sent off for two yellow cards and backup Eunice Sakala entered the game.
Zambia did not post a shot on goal while Japan had 11.
Japan and Spain sit at the top of the Group C table at 1-0-0. Japan will face Costa Rica (0-1-0) on Wednesday in Dunedin, New Zealand.
--Field Level Media