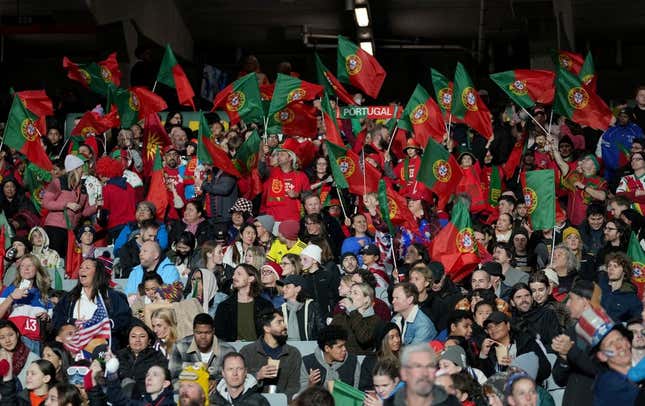 Japan continued its run through the FIFA Women's World Cup on Saturday, advancing to the quarterfinals with a 3-1 win over Norway in Wellington, New Zealand.
How running an NFL team is like running a restaurant | Chef Emeril Lagasse
Japan was 3-0 in group play, outscoring the opponents 11-0. Against Norway, Hinata Miyazawa capped the scoring in the 81st minute with her fifth goal of the tournament, leading all scorers and tying the goals record for a player from Japan in a World Cup.
Ingrid Syrstad Engen's own goal in the 15th minute gave Japan a 1-0 lead, but a Guro Reiten header in the 20th minute sent the match to a 1-1 tie at halftime.
For Japan, Risa Shimizu's goal in the 50th minute proved to be the game winner.
With 14 goals, Japan already has outscored the 2011 team that won the World Cup.
Norway didn't have much of a chance to fight back on Saturday as Japan possessed the ball for 65 percent of the match.
"We knew Norway were going to play to their strength but all of our players really worked hard," Japan coach Futoshi Ikeda said. "We made several adjustments in the second half and it was great that they led to the goals and the win."
Japan will play the winner of the match between Sweden and the United States in the quarterfinals.
Spain 5, Switzerland 1
Aitana Bonmati scored in the fifth minute and added a goal 31 minutes later to lead Spain to a victory and a quarterfinals berth in Auckland, New Zealand. The win is the first ever in the knockout stage of any major tournament for Spain.
The Spaniards possessed the ball for 75 percent of the match and managed nine shots on goal compared to just one for Switzerland. The only goal for the Swiss came on an own goal by Spain's Laia Codina when her pass evaded goalkeeper Cata Coll and went into the net.
But that was all Switzerland would get. Bonmati's second goal of the match, plus scores by Alba Redondo in the 17th minute and Codina in the 45th. gave Spain a 4-1 halftime lead. Jennifer Hermoso finished the scoring in the 70th minute.
Spain outshot Switzerland 18-0 in the first half.
In the quarterfinals, Spain will face the winner of the match between South Africa and the Netherlands.
--Field Level Media