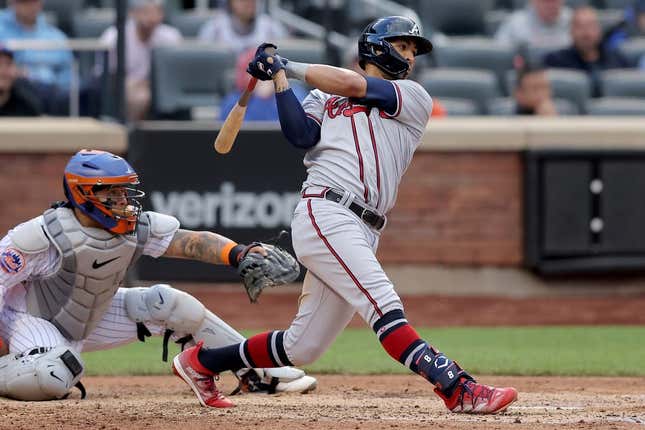 The bullpen could be a big issue on Tuesday night when the Atlanta Braves open a three-game series against the host Miami Marlins
Air Jordans are more American than McDonald's French fries | Deon Cole's Ultimate Sports Fantasy
Miami was off on Monday, resting at home.
The Braves, meanwhile, were in New York, splitting a doubleheader with the Mets. In those two games, Atlanta used seven different relievers for a total of 6 2/3 innings
Atlanta's other big concern is the health of star right fielder Ronald Acuna Jr., who left the second game of the twin bill due to a bruised left shoulder after getting hit by a 93-mph fastball.
The Braves will enter Tuesday having won five of their past seven games
Miami, though, will be looking for some revenge, as the Marlins lost three of four games in Atlanta last week
The only game Miami won in that series was the finale, 5-4, and that should come as no surprise since the Marlins are 10-0 this season in one-run games
Marlins second baseman Luis Arraez, who won the American League batting title last year while playing for the Minnesota Twins, was asked how he felt about his first month in Miami
"It's been good because we've been winning," said Arraez, who leads the majors with a .438 batting average. "Personally it's been amazing because I work hard for this and thank God."
The Marlins will enter Tuesday on a four-game winning streak
The Marlins have been fairly consistent this season despite being just 3-8 against the Braves and Mets. Miami, though, has won every other series, beating the Twins, Phillies, Diamondbacks, Giants, Guardians and Cubs
"What we preach a lot is winning each series," first-year Marlins manager Skip Schumaker said
On Tuesday, the Marlins will start reigning National League Cy Young Award winner Sandy Alcantara, a right-hander who is off to a slow start (1-2, 5.04 ERA)
The Marlins are just 1-4 when Alcantara starts this year. He has looked like his 2022 form just once this year -- on April 4 -- when he pitched a three-hit shutout against the Twins
His most recent start was against the Braves, and he left with a no-decision, allowing four hits, three walks and two runs in 5 2/3 innings. He struck out six batters, but he allowed a homer to Acuna to lead off the sixth inning
In 11 career starts against the Braves, Alcantara is 4-2 with a 2.48 ERA
Atlanta will counter with 23-year-old right-hander Bryce Elder (2-0, 2.17).
Elder, who was Atlanta's fifth-round pick out of Texas in 2020, made his major league debut last year. So far, he has made 14 big-league starts, and five of them have come against the Marlins. In those five starts, Elder is 0-2 with a 3.54 ERA
The last time Elder faced the Marlins was last Wednesday, when he also matched up against Alcantara. The Braves won that game, 6-4, but Elder didn't get a decision as he allowed three homers in 5 1/3 innings
Those weren't cheap shots, either. Jesus Sanchez's homer traveled 437 feet. Avisail Garcia hit a 428-foot big fly, and Jazz Chisholm Jr.'s homer went 418 feet.
"It happens," Braves manager Brian Snitker said. "(Elder) has been really good. He's not going to be perfect.
--Field Level Media