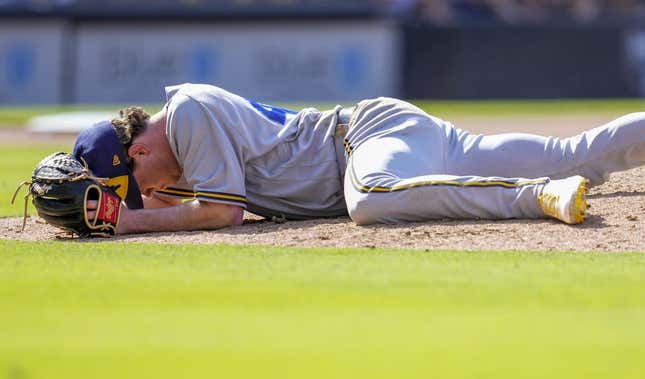 X-rays came back negative on the hand of Milwaukee Brewers right-hander Gus Varland, who was hit by a 105.1-mph line drive off the bat of San Diego's Manny Machado on Saturday afternoon
Air Jordans are more American than McDonald's French fries | Deon Cole's Ultimate Sports Fantasy
It was originally thought that Varland was hit squarely in the jaw, but he said his throwing hand took the brunt of it with his jaw taking a glancing blow.
"I'm more mad about the slider location" than the line drive, Varland told reporters after the game. "I felt like I could have kept going, but I think that's the adrenaline talking there.
"I'm just grateful I'm all right."
Varland was hit in the bottom of the eighth. Machado scalded a 2-1 slider right back at Varland. The ball caromed off Varland to Brewers shortstop Willy Adames, who threw out Machado
Varland was knocked to the ground but got back up before being tended to by trainers and ultimately leaving the game. He was charged with a run in 2/3 of an inning.
It was Varland's sixth appearance this season.
--Field Level Media