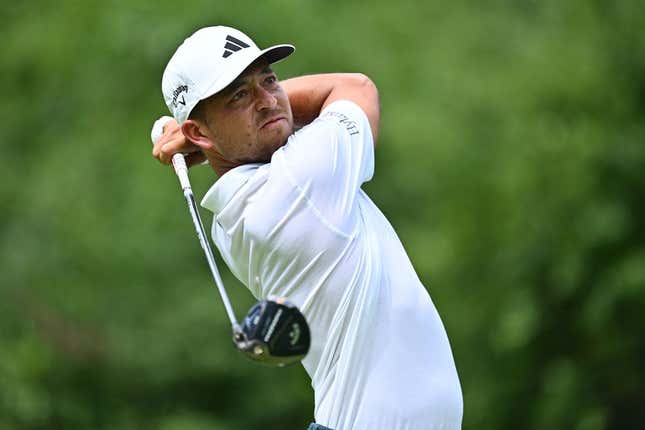 Xander Schauffele has experienced the evolution of the Tour Championship in ways few others can claim.
How running an NFL team is like running a restaurant | Chef Emeril Lagasse
Schauffele made his first Tour Championship as a PGA Tour rookie in 2017, and he went on to win the tournament. Sure, Justin Thomas still wound up as the FedEx Cup champion for winning the season-long points race, but Schauffele still left with a tidy check.
In 2019, the PGA Tour changed the season finale's format — the top 30 players would still qualify, but their starting scores would be "staggered" from 10 under par to even par based on their points. That way, the Tour Championship winner and the FedEx Cup champion would be one and the same.
And in 2020, Schauffele was the first player to post the lowest 72-hole score at East Lake Golf Club but not go home as a champion.
Schauffele shared his complicated feelings about the format Tuesday ahead of this week's tournament in Atlanta.
"I can happily say I've been on both sides of it," Schauffele said. "I've never won the whole thing, but I've won this event and I was given a trophy and I've won it and was not."
He said he couldn't comment on whether the format should be tweaked again, "just because I haven't thought of a way to make it better."
"I still believe that when I talk to some friends and people they still feel like a little confused on how it all happens," Schauffele said. "I think this is supposed to be like our most important event all year. It kind of comes down to this moment. And, like, for people to be like a little bit confused, it's still not a finished product to me in that sense."
One thing Schauffele surely doesn't want changed is the venue. Since winning in his debut at East Lake, Schauffele has two runner-up finishes, a fourth, a fifth and a seventh. He is a combined 81 under par in those six years and has never shot a round over par.
East Lake will be closed for a large-scale renovation after this Tour Championship in order to be ready for next year's.
"Man, I'm a big believer in not changing anything that's already really great," Schauffele said. "When you go to a restaurant and order something that tastes really good, I usually order it over and over and over again. ... So when this course is set up great and the condition it's in right now, with really fast greens, rough is up, it's awesome. It's hard. You have to golf your ball."
As for this week, Schauffele enters the tournament at 3 under par, in a tie for 11th. He's looking up at the likes of Scottie Scheffler (10 under), Viktor Hovland of Norway (8 under), Rory McIlroy of Northern Ireland (7 under), Spain's Jon Rahm (6 under) and more who he will have to leapfrog if he wants to win his first FedEx Cup.
"Nothing to lose. I think a lot of guys who are pretty far back feel that way," Schauffele said. "So just need to kind of have a really good Thursday, Friday, to position yourself for the weekend, and if you can kind of get within some sort of touch within two, three shots, it means you played really well the first two rounds and maybe give yourself a chance come the weekend."
—Field Level Media