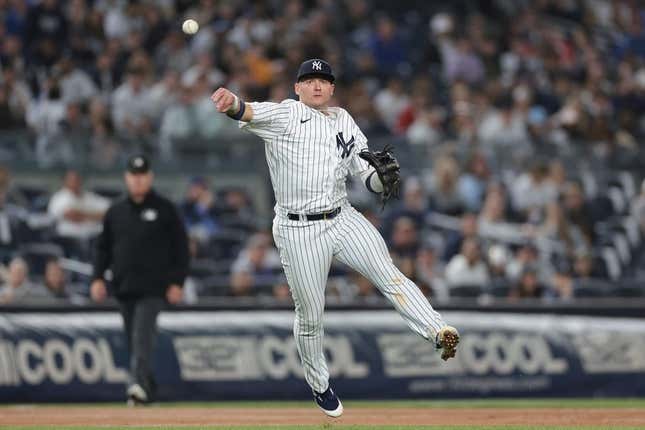 New York Yankees third baseman Josh Donaldson, out since early April because of a strained right hamstring, will start a minor league rehabilitation assignment on Thursday
Yankees manager Aaron Boone said Wednesday that the plan is for Donaldson to play for Triple-A Scranton/Wilkes-Barre for a half-game or so at third base on Thursday, fill the designated hitter role on Friday, be off Saturday and be at third on Sunday
Donaldson could rejoin the Yankees soon thereafter. They open a three-game road series against the Seattle Mariners on Monday, then visit the Los Angeles Dodgers for three games starting June 2
"Possibly in Seattle, probably more likely later in the week, just because he's been down for so long," Boone said. "We'll kind of evaluate at the end of Sunday, assuming we get there and everything is going well, whether we want to have him get another one or two (games) or not."
Boone also said Wednesday that slugger Giancarlo Stanton, who has missed 36 games due to a left hamstring strain, could come off the injured list by next weekend if he starts a minor league rehab assignment this weekend.
Donaldson has missed 45 games. He made a rehab appearance on April 18 with Double-A Somerset but left after five innings and three at-bats (one hit) due to tightness. An MRI revealed a "Grade 1-plus strain" of his right hamstring, Boone said afterward.
Donaldson, 37, is batting .125 (2-for-16) with one home run and one RBI through five games this season. The three-time All-Star and 2015 American League MVP is a career .264 hitter with 267 homers and 791 RBIs over 13 seasons with six teams.
--Field Level Media