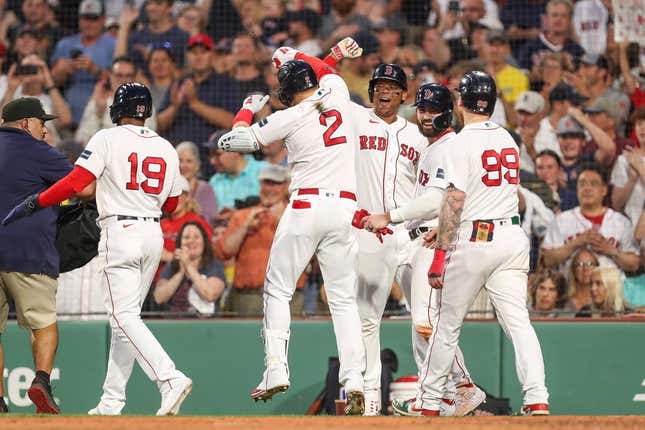 A pair of young right-handers will go head-to-head for a second straight week as the Boston Red Sox host the New York Yankees to continue a three-game weekend series on Saturday night
How running an NFL team is like running a restaurant | Chef Emeril Lagasse
Boston's Brayan Bello (3-4, 3.78 ERA) and New York's Clarke Schmidt (2-6, 4.70) are slated for a rematch of last Sunday's 3-2 Red Sox win in the Bronx
Schmidt, 27, will make his Fenway Park debut after last week marked his first career start against Boston. He will be tasked with shutting down a Red Sox offense that scored a season-high 15 runs on 17 hits -- 10 of which went for extra bases -- in Friday's 15-5 win
"Obviously for everyone, it was just good offense all the way around," said Justin Turner, who hit two homers and drove in six runs, including a grand slam. "And using the whole field, too. Our left-handed hitters wore out the Monster all night for nine innings and found ways to get on base. I think 15 runs and 17 hits, that's a pretty good offense."
Bello has a 2.80 ERA over his last eight starts. He allowed two runs in the second inning and then retired 16 of the last 19 batters he faced over seven innings last week against New York. Two of the 24-year-old's last four starts have spanned seven frames, while he has gone for six innings in three of four.
"He was amazing," Red Sox manager Alex Cora said of Bello's start in New York. "He was throwing strikes (and) using his changeup against righties. That was good to see.
Bello's growth and consistent presence in the starting rotation have helped a Boston staff that has been strong on the whole. Red Sox starters have a 3.51 ERA in their last 27 games, allowing two or fewer earned runs in 20 of them
The Yankees have lost six of their last 10 games while without Aaron Judge, who is sidelined with a toe injury
After Domingo German gave up seven runs in two-plus Friday innings, New York will look for a strong start from Schmidt. The Yankees logged 10 hits, but a pair of errors ultimately contributed to Boston's win
"That isn't the brand of baseball that we're used to playing," said Josh Donaldson, who homered late in Friday's game. "A little sloppy defensively, or a lot sloppy defensively today. It's not in our DNA to do that. It happens sometimes."
Schmidt has a 2.33 ERA over his last five starts, all of which have lasted at least five innings. He did not reach that mark to qualify for a win in any of his first four starts of the season.
Schmidt took a no-decision against the Red Sox on Sunday despite allowing just one earned run in 5 1/3 innings
The Yankees are 11-13 against divisional foes this season
"Through this stretch where it's been tough for us over the last 10 days, we've played really well," New York manager Aaron Boone said. "We just haven't put a lot of points on the board. (Friday) we were at least able to get some runs on the board, but overall, we just did not play a very clean game."
--Field Level Media