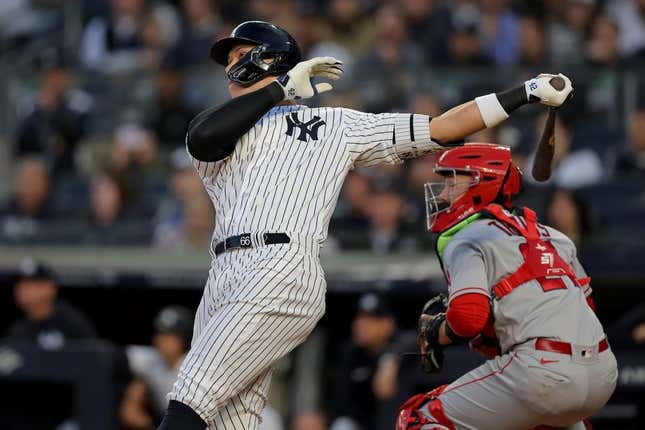 So far, the matchup between Shohei Ohtani and Aaron Judge is a draw.
Both stars contributed to wins for their teams by producing memorable moments the past two days, and the former MVPs will clash again Thursday afternoon when Ohtani's Los Angeles Angels visit Judge and the New York Yankees for the finale of a three-game series
Bass' ERA stinks, but not compared to who he is off the mound | Worst of the Week Countdown
The Angels opened the series with a 5-2 win on Tuesday, when Ohtani hit a two-run homer in the first inning and later stole a base and scored another run
The Yankees earned a 3-2 victory on Wednesday thanks to Judge and a game-ending sacrifice fly by Gleyber Torres in the 10th inning
"You want to play against the best," Judge said. "That's what it's all about."
Before Torres drove in the winning run, Judge robbed Ohtani of a homer in the top of the first by making a leaping catch at the center field fence. Then the New York slugger hit a two-run homer in the bottom of the first.
"If I was good outfielder I would have caught it on the first try," Judge joked. "A juggling act there, but we made the play."
Angels manager Phil Nevin said of Judge, "I've seen that a lot. He's a game-changer on both sides of the ball.
The near homer was part of an 0-for-4 showing by Ohtani. He also struck out twice before drawing a walk in the ninth inning, putting two on for Mike Trout, who struck out on a check swing. The Angels finished 1-for-15 with runners in scoring position
"We had a lot of chances tonight, myself included at the plate," Trout said. "Sometimes that's how it goes."
Ohtani is hitting .194 (13-for-67) with eight homers and 14 RBIs in his career against the Yankees. In New York, he is batting .140 (6-for-43) with four homers and seven RBIs
On Thursday, the Yankees will look to win for the fourth time in five games following their first losing streak of the season. New York scored just seven runs over the past three games and went 0-for-9 with runners in scoring position on Wednesday
Patrick Sandoval (1-0, 1.23 ERA), who has allowed two earned runs in his first 14 2/3 innings, will start for the Angels in the series finale. The left-hander last pitched on Friday in Boston, when he allowed two unearned runs in 3 2/3 innings while throwing 90 pitches
Sandoval is 4-2 with a 1.71 ERA over 13 starts since losing five consecutive starts last July. The hot streak included his only career outing against the Yankees, whom he limited to two runs on three hits in seven innings during a home win on Aug. 31
Nestor Cortes (2-0, 2.60 ERA) takes the ball for the Yankees as he bids for a franchise record. He has allowed two runs or fewer in nine straight starts, matching a team mark also held by Art Ditmar, Michael Pineda and Luis Severino (excluding a 12-start stretch by Chad Green as an "opener")
Cortes allowed two runs on five hits in seven innings during a no-decision against the Minnesota Twins on Friday to tie the record he previously achieved Sept. 25, 2021 to May 15, 2022.
Cortes is 1-0 with a 2.63 ERA in five career games (one start) against the Angels. He earned a win vs. Los Angeles last June 2 in New York when he allowed five hits in seven scoreless innings
--Field Level Media