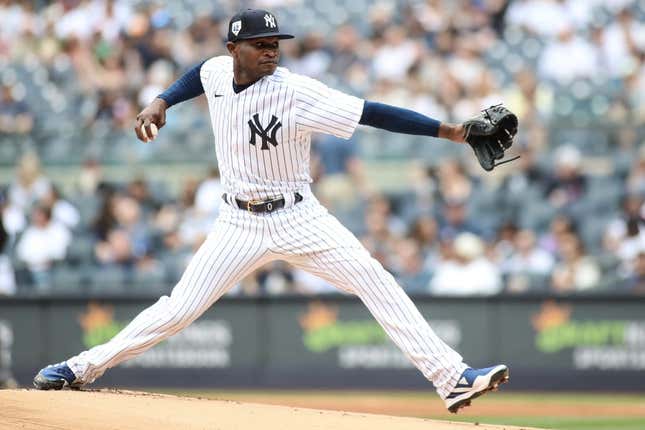 Domingo German was checked out three times by umpires for possible sticky substances, retired the first 16 hitters and pitched 6 1/3 outstanding innings as the New York Yankees beat the visiting Minnesota Twins 6-1 in an event-filled game Saturday afternoon
Kyle Higashioka and Anthony Rizzo homered for the Yankees, who avoided three straight losses for the first time this year. DJ LeMahieu hit an RBI single after missing the previous three games with a minor quadriceps injury, and Giancarlo Stanton slugged a late two-run double
At the end of the third, German (1-1) had his hands examined and umpires checked his glove. German was examined before throwing a pitch in the fourth and was allowed to continue after crew chief James Hoye appeared to tell him to "wash it off" in reference to any possible sticky substance.
After German was allowed to continue, Minnesota manager Rocco Baldelli was ejected by Hoye following an animated discussion with umpires that resulted in a delay of about 5 1/2 minutes.
German, who struck out 10 of the first 15 hitters, also was checked out coming off the mound after the sixth.
German allowed one run on three hits and set a career-high by striking out 11 batters, five days after walking five and getting no strikeouts in Cleveland. It was his third career double-digit strikeout game.
Christian Vazquez got Minnesota's first hit with a clean single to center with one out in the sixth, and Michael A. Taylor followed with a single to left. After the hits and a groundout, Minnesota had runners at second and third, but Carlos Correa flew out to right field for the third out.
German opened the seventh by striking out Byron Buxton for the third time and exited after Trevor Larnach doubled. Larnach scored on Jose Miranda's RBI double off Michael King and the Twins were at first and third when Donovan Solano singled before Kepler hit into a double play
Minnesota's Tyler Mahle (1-2) allowed four runs (two earned) on four hits in 4 1/3 innings after his originally scheduled start was pushed back a day.
Mahle also committed a fielding error on a grounder by Franchy Cordero, two batters before Higashioka homered for a 2-0 lead in the second.
Rizzo's drive to the short porch in right made it 3-0 in the third and LeMahieu's hit opened a four-run lead in the fifth. After Minnesota scored, Stanton doubled off the wall in left-center in the seventh to move the score the 6-1.
--Field Level Media