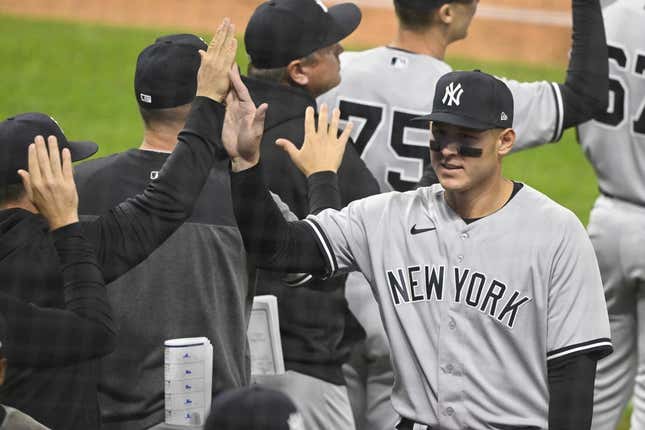 The New York Yankees look to win their fourth straight series to open the season when they face the host Cleveland Guardians on Wednesday afternoon
Can the Florida Panthers make a comeback? | Agree to Disagree
After dropping the opener of the three-game set 3-2 on Monday, the Yankees overcame a two-run first-inning deficit by scoring eight times over the next three innings en route to an 11-2 win on Tuesday
Franchy Cordero went 1-for-4 with his three-run homer highlighting a five-run third inning that broke the game open for the Yankees
Anthony Rizzo went 2-for-3 with two RBIs and two runs scored, while DJ LeMahieu and Aaron Hicks each went 2-for-4 with a pair of runs and Aaron Judge went 2-for-5 with a run.
Gerrit Cole (3-0) overcame a slow start in which he gave up two first-inning runs before allowing just two hits over the next six innings before Albert Abreu relieved him to start the eighth. Cole finished the night allowing five hits to go along with three strikeouts and two walks.
"Another in-command, in-control outing," Yankees manager Aaron Boone said. "Especially when it didn't go his way initially.
The Yankees on Wednesday will turn to right-hander Clarke Schmidt (0-0, 9.45 ERA), who has struggled mightily in his first two starts of the season
After allowing three runs on five hits, including two home runs, in just 3 1/3 innings in a 7-5 loss to San Francisco on April 1, he was even worse in his second start on Friday.
Schmidt allowed four runs on five hits with three strikeouts and three walks in just 3 1/3 innings in a 7-6 loss to the host Baltimore Orioles.
"His stuff is fine. He has the pitches and he has all the weapons," Boone said of Schmidt. "Can he get to that next level to be that starter, that front-line starter? That's what it's gonna take. That's all there is to it."
Schmidt has just one relief appearance against Cleveland in his career. He allowed three runs -- two earned -- on four hits with four strikeouts and two walks over two innings in an 11-1 loss on Sept. 9, 2021.
The Guardians had to change their projected starter for Wednesday after placing Aaron Civale (1-1, 2.84 ERA) on the 15-day injured list with a strained oblique. Peyton Battenfield is expected to make his major league debut after being promoted from Triple-A Columbus to take Civale's spot on the active roster
Battenfield, 25, allowed three runs -- two earned -- over five innings in his first start with Columbus this season on April 4.
"We are trying to win and develop guys at the same time," Cleveland manager Terry Francona said. "Sometimes that can be tough. If you don't have command, some of the veteran lineups can make you pay."
--Field Level Media