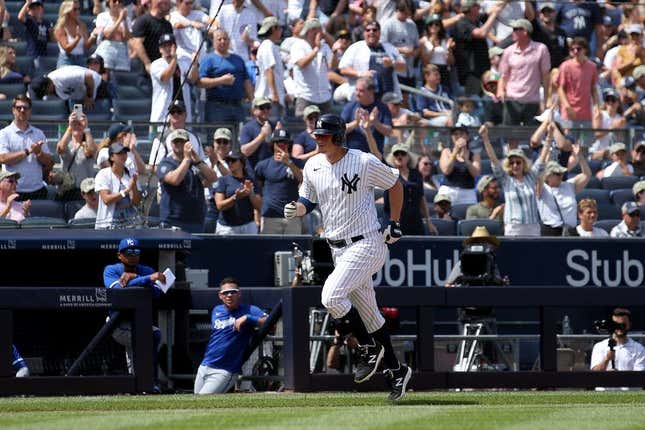 The New York Yankees will feel encouraged if all goes well Sunday when Aaron Judge faces live pitching for the first time since tearing a ligament in his right big toe
How running an NFL team is like running a restaurant | Chef Emeril Lagasse
After Judge faces reliever Jonathan Loaisiga -- who is rehabbing from an elbow injury -- in the simulated game, the Yankees hope to enjoy things even more by completing a sweep of the visiting Kansas City Royals later in the day
New York is seeking its third series sweep this season. The Yankees swept Oakland at home May 8-10 and the Reds in Cincinnati May 19-21 shortly before the Reds began their turnaround
After 5-4 and 5-2 victories to start the series, the Yankees are aiming for their first three-game winning streak since taking four straight from May 27-30
New York manager Aaron Boone called his offense "a little bit" improved since hitting .210 in the first six games after the All-Star break. The Yankees also struck out 42 times while getting swept against the Los Angeles Angels in the last three games of that span
"The last two nights, contributions are spread around a little bit, too," Boone said. "So we just got to keep doing it, too. It's two games. We got a chance to have a great series tomorrow."
DJ LeMahieu hit a tiebreaking solo homer in the seventh inning on Saturday for his first home run since June 13. He is batting .345 (10-for-29) since the break. Giancarlo Stanton hit a two-run homer in the eighth and added an RBI single.
The Yankees are 17-22 since Judge was hurt on June 3 crashing into the right field fence at Dodger Stadium. Judge has progressed to taking batting practice on the field and last week watched pitches during a simulated game
Kansas City is 3-14 over its past 17 games since consecutive home wins over the Dodgers on July 1-2, but manager Matt Quatraro has felt better about his team's at-bats in this series after the Royals were held to four hits in Thursday's 3-0 loss to the Detroit Tigers
Nick Pratto homered and Maikel Garcia hit an RBI single off Gerrit Cole on Saturday as the Royals totaled seven hits after getting nine in the series opener. Kansas City struck out 14 times and went 1-for-5 with runners in scoring position on Saturday
"I thought the guys competed well," Quatraro said. "We didn't take advantage of every opportunity, but you're not going to on a daily basis."
New York's Luis Severino (1-4, 6.66 ERA) will pitch at home for the first time since enduring one of the worst starts of his career. On July 5, in his final start before the All-Star break, Severino was shelled for seven runs and 10 hits in 2 2/3 innings against the Baltimore Orioles, marking the fourth time this season he allowed at least five runs.
The Yankees want to see the version of Severino from his last start, when he allowed one run and six hits in six innings during a no-decision Monday against the Los Angeles Angels in Anaheim, Calif
Severino is 2-1 with a 4.63 ERA in four career starts against the Royals covering 23 1/3 innings. He last faced them May 1, 2022, in Kansas City, when he surrendered four runs (three earned) and seven hits in five innings in a no-decision
The Royals are going with Jordan Lyles (1-11, 6.05), who has shown better results since losing his first 11 decisions. The losses came in his first 14 starts, when he posted a 6.89 ERA. Since then, he is 1-0 with a 3.13 ERA in four outings, and he has allowed just two homers in that span after giving up 18 during his winless skid
Lyles is 3-2 with a 3.86 ERA in eight career appearances (seven starts) against the Yankees. Last year, while pitching for the Baltimore Orioles, he was 2-2 with a 4.04 ERA in six starts
--Field Level Media