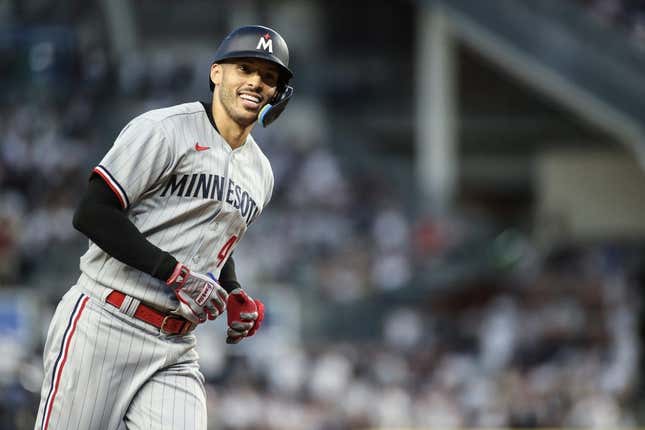 The Minnesota Twins enjoyed an opening inning to remember on Thursday, a nine-run frame that featured three consecutive homers
Are the Oakland A's a failed state? | Agree to Disagree
The New York Yankees were quickly willing to forget such a difficult beginning and chalk it up to just one of those nights
Coming off a successful series opener, the Twins go for their fourth straight win Friday night when they continue a four-game series with the host Yankees
The Twins began the series impressively with an 11-2 rout. Michael A. Taylor, Edouard Julien and Carlos Correa homered in a 10-pitch span after Minnesota built a five-run lead
"That was crazy," Correa said after returning from missing the previous four games with back spasms. "We had a blast doing that. It was a lot of fun."
It was the third year in a row that Minnesota produced a nine-run inning, and it was the most runs the Twins ever scored in an inning against the Yankees
"Honestly I've never been a part of an inning especially right at the beginning of a game like that," Minnesota manager Rocco Baldelli said. "That's beyond setting the tone. It's just a great inning and a memorable one, too. But I really, really like the focus of the team once we put those runs on the board."
New York has yet to drop consecutive games this season and is coming off its most lopsided loss so far. Anthony Rizzo hit two solo homers but Aaron Judge saw his 45-game on-base streak end as the Yankees struck out 12 times and did not draw a walk
The Yankees also gave up their most runs in a first inning since also giving up nine to the Chicago White Sox on June 18, 2000
"As a professional you just make sure you play your game and try to scratch runs, try to a get (a big) inning to get us back in there," Rizzo said. "It didn't happen today, but I've seen this team, this organization do it from afar a lot. I kind of had that feeling, but it just never happened."
After Joe Ryan fanned 10 in seven innings for Minnesota on Thursday, Louie Varland will make his season debut for the Twins on Friday. Minnesota is pushing Tyler Mahle back to skip Kenta Maeda's turn
Varland was 1-2 with a 3.81 ERA in five starts last September. He made his major league debut Sept. 7 in New York, when he allowed two runs and three hits in 5 1/3 innings against the Yankees
New York's Nestor Cortes (2-0, 2.61 ERA), who has allowed two runs or fewer in eight straight starts since last August, will look to win his sixth straight decision. Cortes opened the season by yielding one run on seven hits in five innings on April 3 against Philadelphia, and then he gave up two runs on four hits in 5 1/3 innings Sunday at Baltimore.
Cortes is 2-1 with a 4.35 ERA in five games (three starts) against Minnesota. He last faced the Twins on Sept. 8 in New York, when he allowed two runs on two hits in four-plus innings during a no-decision
--Field Level Media