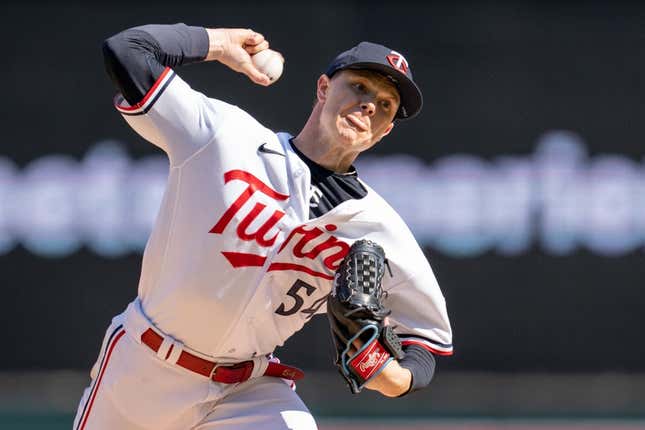 The New York Yankees look to regain their dominance of the host Minnesota Twins when they open a three-game series on Monday in Minneapolis
Air Jordans are more American than McDonald's French fries | Deon Cole's Ultimate Sports Fantasy
The Yankees generally have had very little trouble against the Twins recently, going 20-7 against Minnesota since the start of the 2019 season, including a three-game sweep in a 2019 American League Division Series
The Twins and Yankees split a four-game series earlier this month in the Bronx
Minnesota opened the set with an 11-2 win on April 13 followed by a 4-3 victory the next day. The Yankees stormed back to close the series with 6-1 and 2-0 triumphs
Since last facing the Twins, the Yankees took two of three games from the visiting Los Angeles Angels before losing two of three contests at home against the Toronto Blue Jays this past weekend
The Twins, meanwhile, have dropped six of their past eight games after avoiding being swept by the visiting Washington Nationals this past weekend with a 3-1 win on Sunday
Minnesota second baseman Jorge Polanco, who missed the first 19 games of the season with inflammation in his left knee, went 3-for-4 with a home run and two RBIs in the win.
"When Polo's really swinging it right-handed, he becomes a real danger as a player," Minnesota manager Rocco Baldelli said. "He's historically been an even better hitter from the left side, so when he's going out there shooting balls, hitting line drives all over the field right-handed that's almost an added bonus."
The Yankees are heading to the Twin Cities after a 5-1 setback to the Blue Jays in the rubber game of a three-game series on Sunday
Against the Twins, New York will turn to right-hander Jhony Brito (2-1, 5.40 ERA), who was tagged by Minnesota for seven runs on six hits and a walk and no strikeouts in just two-thirds of an inning in the aforementioned 11-2 loss
In his last start, Brito allowed the Los Angeles Angels just one run on three hits with three strikeouts and three walks in 4 1/3 innings during a 3-2 loss in 10 innings on Wednesday.
"I thought he did a really good job of mixing, you know, using his sinker and his four-seam fastball -- and using it on both sides of the plate," Yankees manager Aaron Boone said about Brito's last outing. "He just made a lot of mistakes with the sinker in his last outing (against Minnesota), where he was up with it and it was running back to the heart of the plate a number of times. I thought today he was better.
The Twins will counter with right-hander Sonny Gray (2-0, 0.82), whose ERA is among the best in baseball
He has allowed just two runs to go along with 26 strikeouts and nine walks in 22 innings. He limited the Red Sox to a run on seven hits with seven strikeouts and two walks in five innings in a 5-4 loss in 10 innings on April 18.
Gray, who started 34 games for the Yankees in 2017-2018, is 1-2 with a 4.04 ERA with 33 strikeouts and 14 walks in 35 2/3 innings spanning six starts in his career against Yankees
--Field Level Media