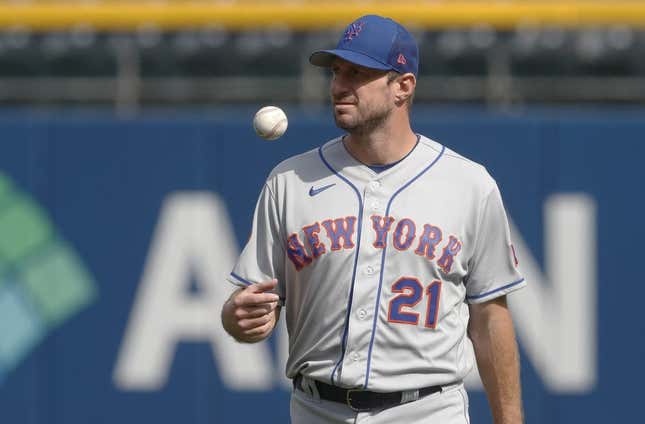 For more than a quarter century, regular season games between the New York Mets and New York Yankees have been about seeing the best and highest-profile players in baseball on the same field a handful of times per season
Is Texas or Florida State a bigger national title contender? | Agree to Disagree
But Pete Alonso and Aaron Judge will be mere observers Tuesday night, when the sidelined sluggers watch the Mets host the Yankees in an opener of a brief two-game interleague series
Max Scherzer (5-2, 3.71 ERA) is scheduled to start for the Mets against Luis Severino (0-1, 5.75) in a battle of right-handers
Both teams were off Monday after losses in the deciding games of their three-game series on Sunday. The visiting Mets were limited to three hits in a 2-1 loss to the Pittsburgh Pirates while the host Yankees squandered an eighth-inning lead and fell to the Boston Red Sox 3-2 in 10 innings
The quiet offensive games underlined the struggles the New York teams face without Alonso and Judge, who lead their respective leagues in homers -- Alonso has 22 homers and Judge has gone deep 19 times -- and rank first and second in the majors in homers since 2019.
Alonso, whose 53 homers in 2019 broke the rookie record set by Judge just two years earlier, has 168 homers over the last four-plus years. Judge, who hit an American League-record 62 homers last season, has 156.
But it will likely be July before either player gets to add to his total. Judge is sidelined indefinitely with a right big toe sprain that happened when he ran into a concrete curb beneath a fence at Dodger Stadium while making a catch on June 3. Alonso is expected to miss three to four weeks with a left wrist bone bruise and sprain absorbed when he was hit by a Charlie Morton pitch last Wednesday.
The Yankees are 3-4 without Judge and have been limited to 21 runs, the fourth-fewest in either league since June 4. After maximizing their opportunities in a 3-1 win on Saturday night -- when Willie Calhoun and Gleyber Torres homered and Kyle Higashioka added an RBI single -- an eighth-inning miscue by Torres led to the frustrating loss Sunday
Torres made no attempt to field a bounced throw from right fielder Billy McKinney following a single by Enrique Hernandez, who went to second and eventually scored the game-tying run.
"The little mistakes, when we are playing low-scoring, tight games -- those are separators sometimes," Yankees manager Aaron Boone said
The Mets, who dropped the fifth of their seven straight losses the night Alonso was hurt, scored 22 runs in their first three games without the slugging first baseman
But Alonso's absence was felt Sunday, when the Mets recorded just one hit after Jeff McNeil's homer leading off the fourth. Tommy Pham doubled with one out in the ninth but was left there when Brett Baty and Mark Canha each flew out as the Mets tied a season high by slipping four games under .500
"Absolutely we miss (Alonso), but we still got to get the job done," Mets catcher Omar Narvaez said, according to Newsday. "We don't really rely on one hitter. We're still a group and still a good team.
Scherzer didn't factor into the decision last Wednesday, when he gave up five runs over 5 2/3 innings as the Mets fell to the Atlanta Braves 7-5. Severino didn't factor into the decision last Thursday, when he allowed four runs over five innings in the Yankees' 6-5 loss to the Chicago White Sox in the first game of a doubleheader
Scherzer is 4-5 with a 3.67 ERA in 11 career starts against the Yankees. Severino is 2-2 with a 2.75 ERA in four games (three starts) against the Mets
--Field Level Media