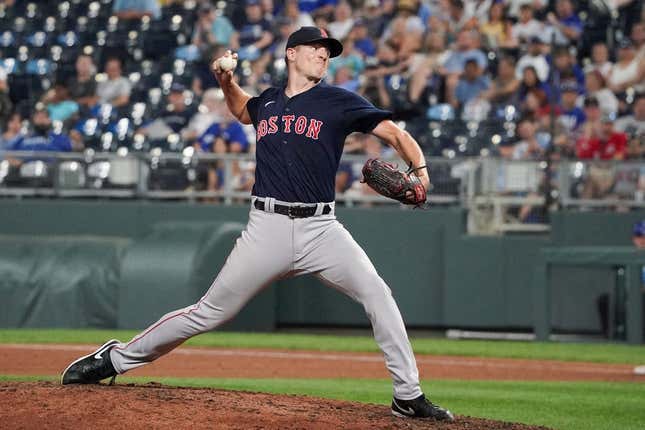 September series between the longtime rival Boston Red Sox and New York Yankees typically have major playoff implications.
How running an NFL team is like running a restaurant | Chef Emeril Lagasse
In 2023, that is not the case.
Boston (73-70) and New York (71-72) enter Tuesday's four-game-series-opening doubleheader at the bottom of the American League East standings, but there is still a special feeling each time the clubs get together — including Tuesday's day-night doubleheader.
"Another series against the division where you're trying to compete and play good baseball," Boston catcher Reese McGuire said. "It's always very fun when the Yankees come to town."
The Red Sox have won eight of the first nine meetings this season.
The series was originally set to begin Monday, but continued rain showers forced a postponement. It is Boston's third straight divisional set after going 1-2 at Tampa Bay then 1-2 again at home against Baltimore.
After an 0-for-9 start to the series, Triston Casas hit a three-run home run to punctuate Sunday's win for the Red Sox. His 24 homers this season are tied for tops among all MLB rookies.
For Boston, Nick Pivetta (9-8, 4.54 ERA) will make only his fifth start since July 31 in the first game Tuesday. It will be his second straight start after he struck out five in 4 2/3 innings of three-run ball Wednesday in Tampa Bay.
More often used in relief this season, Pivetta should be a rotation regular with James Paxton (right knee inflammation) being added to the 15-day injured list Sunday.
"That's good for (Pivetta)," Red Sox manager Alex Cora said. "He has been solid throughout and we'll give him every chance to start every five days."
Pivetta is 1-3 with a 7.23 ERA in 12 career outings (seven starts) against the Yankees. He made five of those starts last season with a 9.51 ERA.
In four relief outings against New York this season, Pivetta has surrendered just two runs across 9 2/3 innings. Back on Aug. 20 he gave up two runs over five innings as a bulk reliever.
Fellow right-hander Kutter Crawford (6-7, 4.36) will start the nightcap after having his scheduled Monday outing rained out. Crawford, who has allowed 11 runs over his last two outings, boasts a 1.89 career ERA in 19 career innings against the Yankees.
It has been an up-and-down September for the Yankees, who won five straight and then lost three before Sunday's 4-3, 13-inning win over Milwaukee.
Manager Aaron Boone's club was no-hit for 10 2/3 innings but won using just three hits, including a Kyle Higashioka walk-off double.
Four of New York's last five wins have come in comeback fashion.
"This last part of the season is a real revealer of character," Higashioka said. "You've got to grind through it and play your best, no matter what the circumstances are."
The Yankees will first give the ball to right-hander Randy Vasquez (2-2, 2.36) on Tuesday for his first career outing against Boston. The 24-year-old has started four times in his seven appearances. In his most recent outing, Vasquez gave up one run on three hits and two walks with five strikeouts over 2 1/3 innings against Detroit on Thursday.
The second game of the doubleheader will mark lefty Carlos Rodon's first outing against the Red Sox since 2021. Rodon (2-5, 6.60) has a 1-3 record and 3.60 ERA in five career starts against Boston.
"Just wanted to keep Rodon on schedule," Boone said. "... And it allows us to give Clarke (Schmidt) an extra day, just considering where he is in the season too."
Rodon was charged with seven runs in 3 2/3 innings against the Tigers in his last start on Thursday, which followed a win at Houston.
"Just got my ass whooped," Rodon said of the game against Detroit.
He has worked out of the fifth inning in only two of his last seven starts.
—Field Level Media