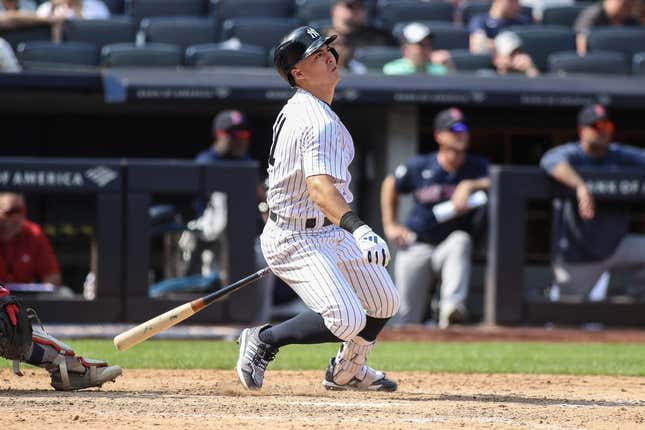 The last time the New York Yankees endured a nine-game losing streak, Billy Martin was between the second and third of his five stints as the team's manager.
How running an NFL team is like running a restaurant | Chef Emeril Lagasse
The Yankees will attempt to avoid a ninth straight loss for the first time in nearly 41 years Tuesday night when they host the Washington Nationals.
New York is on its first eight-game losing streak since Aug. 19-26, 1995, when Buck Showalter's team fell five games under .500 before ending on a massive 26-7 run to earn the wild-card spot and end a run of 13 seasons without making the playoffs.
The last time the Yankees dropped nine in a row was Sept. 13-21, 1982, when Clyde King was their third manager to sit on the bench over a 79-win season.
Since a 9-4 win over the host Miami Marlins on Aug. 11, the Yankees have been outscored 51-20.
After five straight non-competitive losses, the Yankees nearly ended the skid by tying Sunday's game four times before ending up with a 6-5 loss to the Boston Red Sox, marking their first sweep at home since dropping four straight to the Toronto Blue Jays from Sept. 6-9, 2021.
Rookie Anthony Volpe hit a tying three-run homer in the seventh and a had single that nearly scored Isiah Kiner-Falefa in the eighth before video replay overturned the original call.
"I don't think anyone is OK or anything close to that with how we've been playing and the results," Volpe said after Clay Holmes allowed a go-ahead double to Justin Turner. "Regardless of if anyone's been through it before, I feel like everyone is pretty pissed."
The skid is an extension of New York's slump that began shortly before the All-Star break.
Following a win over Baltimore on July 4, the Yankees were 48-38 and held a two-game lead over Toronto for the third wild card. Since then, New York is 12-26 and began Monday nine games back of Seattle for the last wild-card spot while trailing the Blue Jays, Red Sox and Angels.
"We've got to be unbelievable the rest of the way, so it's not even about (the playoff race)," Yankees manager Aaron Boone said. "It's about coming and trying to win a game Tuesday. Then all of a sudden, you start stacking, and then an amazing thing happens. But we're so far removed from that right now. We've got to get a win first."
Washington is 11 games under .500 but is 21-14 since the All-Star break and 12-6 in its past 18 contests.
The Nationals head to the Bronx after winning a series for the seventh time in nine tries. They took two of three from the Philadelphia Phillies by earning a 4-3 victory Sunday in the Little League Classic at Williamsport, Pa.
"It's been really good," Washington catcher Keibert Ruiz said. "We have a really good family in the clubhouse, and we believe we can play good against a really good team like the Philadelphia Phillies. All the teams."
New York left-hander Carlos Rodon (1-4, 7.33 ERA) will return from the injured list for his first start straining his left hamstring Aug. 6 against Houston. Rodon heads into his first career start against Washington having allowed eight homers in his first 27 innings for the Yankees.
Nationals right-hander Josiah Gray (7-10, 3.96) will make his first start against the Yankees and will likely pitch in front of several family and friends from nearby New Rochelle, N.Y. Gray led the majors with 38 homers allowed last year but has allowed 17 in 24 games so far.
Despite Gray avoiding home runs, he is 1-4 with a 5.77 ERA in his past seven outings and allowed five runs in three innings a week ago in a loss to Boston.
—Field Level Media