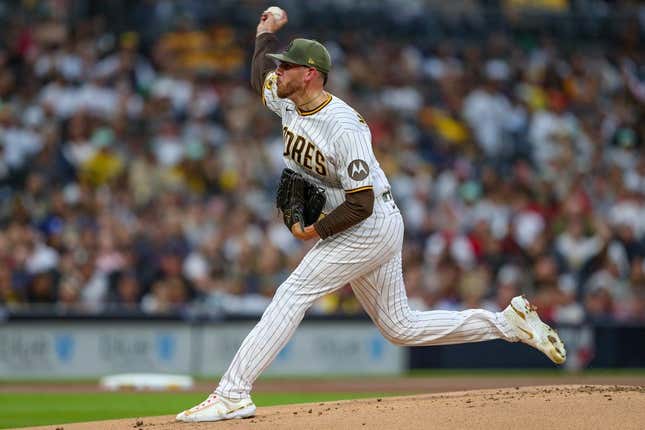 One series win hardly cures the recent woes of the San Diego Padres; but, for the first time in a little over three weeks, they can feel good about things and hope the worst is behind them
Chris Paul should ride the bench next season | Keep it a Buck(et)
Coming off a late comeback to get their first series win in five tries, the Padres hope to start a productive weekend Friday night when they visit the New York Yankees for the opener of a three-game series
The Padres head to the Bronx with five wins in their past 17 games since taking two of three at home from the Cincinnati Reds, May 1-3. Three of those wins have come in their past four games, and the Padres secured a series win Thursday with an 8-6 victory over the Washington Nationals. They won a road series for the first time since taking three of four April 20-23 in Arizona
San Diego heads to New York after scoring 22 times in its past three wins. On Thursday, the Padres rallied when Rougned Odor hit a three-run homer off Hunter Harvey with two outs in the ninth after Jake Cronenworth and Juan Soto started the inning with singles
"That ninth inning is something we needed to grab onto and hold," Cronenworth said. "It's a feeling we want to feel all the time - the feeling of stringing those quality at-bats together and stringing some runs together."
Odor, who batted .202 in 102 games for the Yankees in 2021, homered after the Padres squandered a four-run lead by allowing five runs in the seventh. He also hit a two-run double and finished with five RBIs while Soto reached base five times
The Yankees are 15-7 in their past 22 games but are hoping to avoid a three-game losing streak after dropping two of three to the Baltimore Orioles. After rallying Tuesday for a 6-5 victory on Aaron Judge's tying homer in the ninth and Anthony Volpe's sacrifice fly in the 10th, the Yankees allowed an eight-run seventh on Wednesday and were held to three hits in a 3-1 loss Thursday night
It marked their first series loss at home since they dropped two of three to Toronto, April 21-23, and occurred as manager Aaron Boone was ejected for the fourth time this season.
Randy Vasquez will make his major league debut; the Yankees needed a starter because of Domingo German's 10-game suspension for using a sticky substance and the desire to give Luis Severino an extra day
"He did some good things in spring training, good arm, good stuff," Boone said. "He's been pitching pretty well. He's the next guy up right now with an opportunity."
Vasquez was an international signee from the Dominican Republic in 2018 and began this year as Baseball America's ninth-rated Yankee prospect. In nine starts with Triple-A Scranton Wilkes/Barre, the 24-year-old right-hander is 1-5 with a 4.85 ERA.
Joe Musgrove (1-2, 6.75 ERA), who is 0-2 with a 4.60 ERA in his past three starts, goes for the Padres. Musgrove took the loss Saturday at home against the Boston Red Sox; he allowed four runs on six hits in five innings
Musgrove is facing the Yankees for the first time and pitching in New York for the first time since combining on a one-hitter against the Mets in Game 3 of the National League wild-card series
--Field Level Media