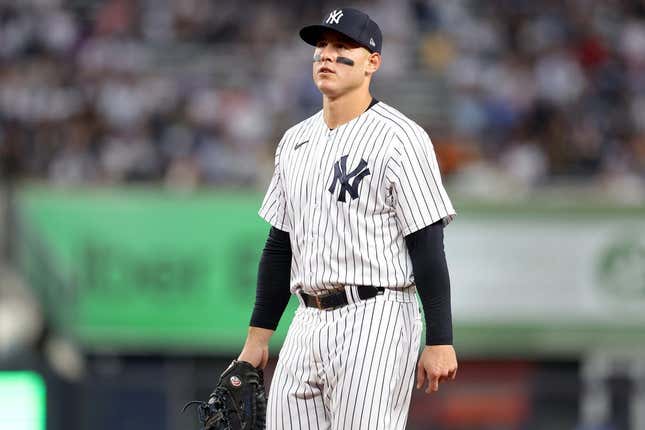 The Oakland Athletics won't be able to take advantage of the Aaron Judge calling card to pad their dreadful home attendance when the New York Yankees open a three-game visit Tuesday night
How running an NFL team is like running a restaurant | Chef Emeril Lagasse
The A's drew their second-, fourth- and 10th-biggest crowds of the home campaign last year when the Yankees made a four-game stopover and only managed a series split last August. All told, the four games drew 93,724 fans, about 12 percent of the 81-game season total
Pursuing his 50th homer at the time, Judge belted his 49th in the second game of the series, a three-run shot, but had only one other hit in the four games, going 2-for-13 with five walks.
A native of Linden, Calif., about 85 miles east of Oakland, Judge has already been ruled out of this series -- and is expected to have a prolonged absence -- with a torn ligament in his right big toe. The injury occurred while running into the outfield fence at Dodger Stadium on June 3.
The Yankees have gone just 8-10 in their slugger's absence, struggling to replace him both as the No. 2 hitter in the lineup and as the right fielder
Anthony Rizzo, Giancarlo Stanton, Gleyber Torres, Josh Donaldson and Harrison Bader have all taken turns at hitting second but have come nowhere close to replicating Judge's prolific production.
Meanwhile, Jake Bauers, Willie Calhoun, Oswaldo Cabrera and Stanton have all gotten starts in right field in the last 18 games. They have hit a combined 10-for-60 (.167) with three homers and nine RBIs.
In a three-game series that ended Sunday at Texas, Yankees manager Aaron Boone benched Donaldson for all but a 10th-inning pinch-hit appearance. Boone then had a half-hour private chat with Donaldson after the 5-3 homestand-ending win
"The last few games that I did play, my at-bats probably weren't as good as I'd want them to be," said Donaldson, who hasn't had a hit since June 16, going 0-for-14 since then. "But at the same time, I'm going out there, putting in the work."
Like the Yankees, the A's flew cross-country after an afternoon game Sunday, doing so after taking a 12-1 shellacking at Toronto to complete a 1-5 trip. Oakland has gone 1-10 since a shocking seven-game winning streak that included two in a row at home over the Tampa Bay Rays
One of the bright spots on the trip was second baseman Tony Kemp, who has responded from a recent 0-for-23 stretch to record hits in nine of his last 10 games. He went 7-for-20 (.350) on the trip.
"Tony's turned it around," A's manager Mark Kotsay said. "He's a pro. He put his head down and kept working and kept grinding, and now he's getting some results."
The Oakland homestand begins with Paul Blackburn (0-0, 4.21) on the mound, facing the Yankees' Jhony Brito (4-3, 4.89) in a duel of right-handers
Blackburn has pitched well in both home starts this season, limiting the Atlanta Braves and Rays to a total of three earned runs in 9 2/3 innings. He's 0-0 with a 2.70 ERA in two career starts against the Yankees
New York has won each of Brito's last four starts, including an 11-3 home romp over the A's on May 10, when he allowed two runs in 4 1/3 innings. It was the rookie's first start against Oakland.
--Field Level Media