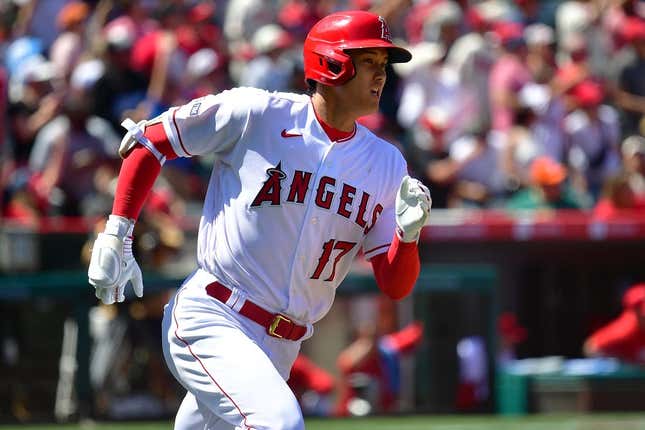 The New York Yankees in all probability will not need to concern themselves with Shohei Ohtani's pitches. Instead, they will only face Ohtani the hitter
Will South Beach Flu give the Heat home court advantage? | Keep it a Buck(et)
Ohtani makes his only trip to Yankee Stadium this season on Tuesday night when the Los Angeles Angels visit the Yankees for the opener of a three-game series
Ohtani is hitting .200 (12-for-60) with seven homers and 12 RBIs in 17 career games against the Yankees, and last season he was 7-for-24 in six games against New York. At Yankee Stadium, Ohtani is 5-for-36 with three homers and five RBIs in 10 games
After finishing as the runner-up to Aaron Judge in the American League MVP race last season, Ohtani is batting .298 with three homers and nine RBIs. He helped the Angels avoid a four-game sweep at Fenway Park by going 2-for-5 in Monday's 5-4 victory. Teammate Hunter Renfroe hit a three-run homer in the first inning to kickstart the offense
Ohtani also pitched two innings on Monday before rain halted his latest start, but Tucker Davidson was able to preserve the bullpen by throwing 3 1/3 innings.
"I think just after the past few days, we needed to win badly," Davidson said. "And for us to bear down and do it, a delay, another rain delay, I mean nobody really wanted that. We wanted to get to New York by six and have a nice dinner. But sometimes you gotta make do with what you're given and I think we did a good job of handling adversity and just going out there and continuing to play our game despite the conditions out there."
The Angels also rested Mike Trout and Anthony Rendon. Their days off were planned in advance by manager Phil Nevin and both are expected to play Tuesday
The Yankees head into their latest encounter with Ohtani coming off two dominant pitching performances that helped them earn a split of a four-game series with the visiting Minnesota Twins
After the Yankees were blown out Thursday and wasted a late lead Friday, Domingo German allowed one run and struck out 11 batters in 6 1/3 innings Saturday and ace Gerrit Cole fired a two-hitter in a 2-0 win Sunday
The Yankees won after putting Giancarlo Stanton on the injured list with a left hamstring strain. Stanton was injured when he hit a two-run double Saturday and will likely miss at least a month. New York manager Aaron Boone will rotate players in the lineup to compensate for Stanton's absence
"It's a blow when Giancarlo's not in the lineup, but that being said ... I do feel like we can mix and match and get it done," Boone said. "And we'll have to. It'll require some more guys to step and play some different roles."
The first Yankee pitcher to face Ohtani will be right-hander Clarke Schmidt (0-0, 8.44 ERA), who is allowing left-handed hitters to hit .433 (13-for-30) this season, while righties have hit just .177 (3-for-17).
Schmidt last pitched Wednesday in Cleveland, where he allowed three runs on six hits in four innings in a no-decision.
In one previous appearance against the Angels, Schmidt allowed one run on two hits while going two-thirds of an inning back on June 2, 2022. He has never made a start against Los Angeles
Jose Suarez (0-1, 10.80), who last pitched on April 10 and allowed four runs in four innings and tied a career worst by giving up 10 hits, goes for the Angels
Suarez is 2-1 with a 5.21 ERA in four career outings (two starts) against New York. He last faced the Yankees on Aug. 29, 2022, at home, allowing two runs in six innings to earn a win
--Field Level Media