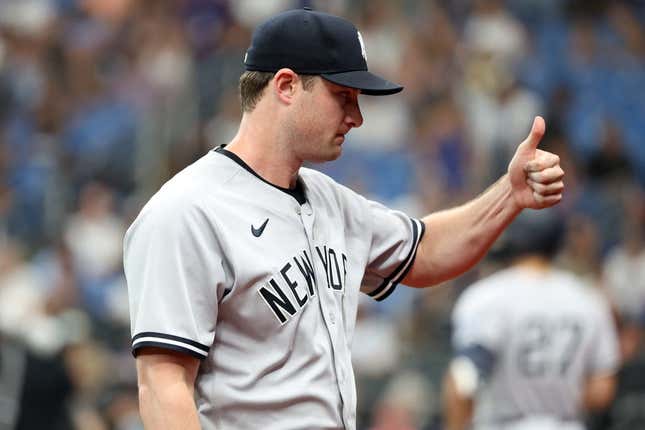 The New York Yankees have two chances to do something they haven't been able to accomplish in over a month — win a series.
How running an NFL team is like running a restaurant | Chef Emeril Lagasse
They have taken the first two contests of a four-game series in Detroit. The last time they won a series was July 21-23, when they swept a three-game home series against the Kansas City Royals.
Right-hander Gerrit Cole (11-4, 2.95 ERA), Wednesday's starter, is coming off one of his most powerful outings this season. Cole held the Tampa Bay Rays to two runs (one earned) and three hits in 7 2/3 innings on Friday. He tied his season high with 11 strikeouts after giving up six runs in four innings to the Boston Red Sox in his previous start.
Despite the Yankees' disappointing season, Cole is in the running for the American League Cy Young Award.
"It would be unbelievable," Cole said after his start against the Rays. "So many people put hard work into it. It would be a blessing to represent the organization with that award and to represent the hard work that's gone on behind the scenes, from the catchers and pitching staff to the coaching staff and everybody that's an advocate for me and pours into me."
Cole finished second in the AL Cy Young balloting in 2019 and 2021, and he's been a top five finalist for a Cy Young Award three other occasions. Cole turns 33 next month.
"You're always trying to get better," he said. "Father Time catches up to us somehow, but we can always adjust and figure out what we need to do to stay at that top level."
Cole traditionally has dominated the Tigers, posting a 7-1 record with a 1.94 ERA in 11 career starts.
The Tigers likely will use an "opener" on Wednesday. Matt Manning, who tweaked his back in his last start, was the originally scheduled starter but he'll instead get the nod for the series finale on Thursday.
Detroit will be calling up left-hander Joey Wentz from Triple-A Toledo to eat up some innings on Wednesday. Wentz (2-10, 6.62) most recently pitched in the majors on Aug. 18, when he tossed five scoreless innings against the Cleveland Guardians.
"Extra day here doesn't really impact a ton," manager A.J. Hinch said of pushing back Manning's start. "We'll give other guys some opportunities."
Wentz has never faced the Yankees.
The Tigers will be looking to snap a four-game losing streak. They have scored two or fewer runs in three of those games.
They didn't score on Tuesday until Parker Meadows' two-run single with two out in the ninth inning.
"We certainly have to do more if we expect to win the game," Hinch said.
Yankees infielder Gleyber Torres has homered in both games of the series thus far. He reached base four times in Tuesday's 4-2 win.
The Yankees got a scare when Torres was hit in the hand by a pitch, but he shook it off and stayed in the contest.
"We were worried initially but I think he's fine," manager Aaron Boone said.
New York will go forward without infielder Josh Donaldson, who was on the injured list with a calf strain. The Yankees released Donaldson prior to Tuesday's game as they evaluate younger players the rest of the way.
—Field Level Media