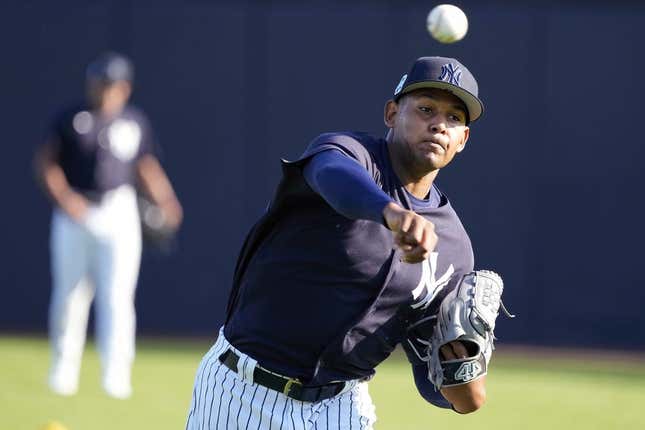 Even as he pitched well in spring training, Jhony Brito's mentality was about pitching well with Triple-A Scranton/Wilkes-Barre and doing well enough to get a call from the New York Yankees
Bass' ERA stinks, but not compared to who he is off the mound | Worst of the Week Countdown
Due to injuries, the Yankees needed Brito much sooner; he will make his major league debut Sunday afternoon in the finale of a three-game series against the visiting San Francisco Giants
The Yankees opened the series with a 5-0 win on Thursday but went 3-for-11 with runners in scoring position in a 7-5 loss on Saturday. Giancarlo Stanton homered, Josh Donaldson also went deep and Aaron Judge had three hits
"It was very surprising because I was preparing myself to go to Triple-A," Brito said through an interpreter Saturday. "Things worked out very quickly and like I said, surprising. They told me, 'Hey you're coming with us on the road trip,' and my mentality was to go to Triple-A and take care of business in Triple-A and hopefully expect a call from the team at some point. Obviously, this developed much quicker, and here I am."
Brito impressed the Yankees by going 2-0 with a 2.08 ERA in four spring training appearances. On March 25, in his second spring start, he wowed them by pitching 5 1/3 innings against the Toronto Blue Jays, who fielded a lineup of most of their regulars. He surrendered no runs, hits or walks, and struck out three
"He was dominant his last outing in spring training when he came over and went into the sixth," Yankees manager Aaron Boone said. "It was good fastball command, with good feel to his changeup, and then be able to land the breaking ball, too.
The Yankees signed Brito out of the Dominican Republic as a non-drafted free agent on Nov. 9, 2015. He entered this season as New York's 30th-best prospect according to Baseball America and was added to the 40-man roster after going a combined 11-4 with a 2.96 ERA in 26 outings (23 starts) in Double-A and Triple-A
"I haven't seen him a lot in person until this spring," Boone said. "And I remember his first bullpen, kind of turning to our pitching guys after he walked off, like this guy can help us."
The Giants struck out 16 times and managed just four hits in the season opener, but were much better Saturday, such as Brandon Crawford and Joc Pederson hitting homers in the fourth inning. Crawford went 3-for-5 and drove in three runs, while Pederson collected an RBI as the Giants had 12 hits to offset 13 strikeouts
"We're going to hit for power this year," San Francisco manager Gabe Kapler said. "One of the things we've talked about is it (is) probably not going to come from just one individual. It's going to be spread out, and you're going to see extra-base hits and home runs."
Ross Stripling makes his San Francisco debut after spending the past two-plus seasons with the Toronto Blue Jays. Stripling went 10-4 with a 3.01 ERA in 32 appearances (24 starts) with Toronto last season and signed a two-year, $25 million deal that includes an opt-out with San Francisco.
Stripling is 0-5 with a 4.55 ERA in seven career appearances (four starts) against the Yankees. Last year, he was 0-1 with a 4.70 ERA in two starts against New York
--Field Level Media