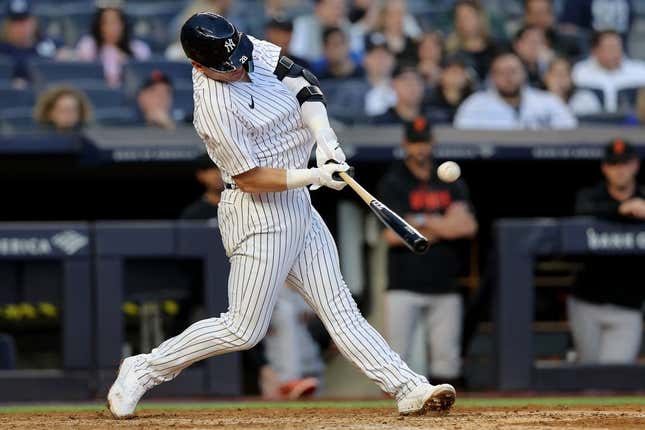 New York Yankees third baseman Josh Donaldson will be spending more time on the injured list after suffering a Grade 1 hamstring strain during his rehabilitation assignment in the minor leagues
'Soccer fandom is full of gatekeepers' says Ted Lasso actor Brendan Hunt
Donaldson will be out a couple more weeks, Yankees manager Aaron Boone told reporters Friday
"He's doing pretty well," Boone said. "He's getting around well, but there's something there."
Donaldson last played for the Yankees on April 5 when he had a right hamstring strain and was placed on the 10-day IL on April 8
He was on rehab assignment on Tuesday with Double-A Somerset but left a game after five innings and three at-bats (one hit) after experiencing tightness.
He underwent an MRI upon returning to the Yankees and a "Grade 1-plus strain" was revealed, Boone said
"Everything was progressing really nice," Donaldson said Wednesday. "Obviously, I'm bummed out that I felt like it was gonna be any day now. But just kind of take it day by day and hopefully, this gets ironed out."
Donaldson, 37, is batting .125 (2-for-16) with one home run and one RBI through five games this season. The three-time All-Star and 2015 American League MVP is a career .264 hitter with 267 homers and 791 RBIs over 13 seasons with six teams.
--Field Level Media