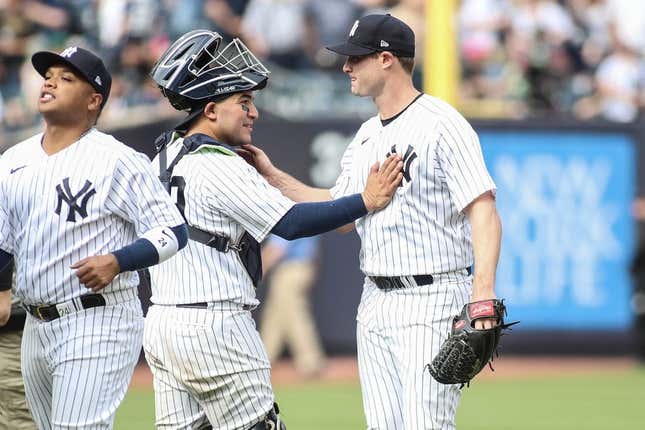 While Gerrit Cole is off to a dominant start due to exceptional command, Alek Manoah is struggling to find his mechanics.
Air Jordans are more American than McDonald's French fries | Deon Cole's Ultimate Sports Fantasy
Cole hopes to maintain his impressive start Saturday afternoon when his New York Yankees oppose Manoah and the Toronto Blue Jays in the middle game of a three-game series at Yankee Stadium
The Yankees are trying to avoid their first series loss after Toronto recorded a 6-1 victory on Friday. Vladimir Guerrero Jr. hit a two-run homer in the first inning and Brandon Belt later added a two-run homer and a two-run double
Cole (4-0, 0.95 ERA) heads into Saturday as the first pitcher in team history to record at least 30 strikeouts with a sub-1.00 ERA through his first four outings since earned runs were first recorded in 1913. He notched 10 strikeouts on Sunday when he threw a 108-pitch two-hitter in a 2-0 home win over the Minnesota Twins for his 23rd double-digit strikeout game as a Yankee, tying Ron Guidry's team record.
"He's had some pretty good stretches for us before," New York manager Aaron Boone said. "Add it all up and I feel like he's in such a good place. I like how he's using his fastball right now. I think it is just him continuing to evolve and grow as a pitcher."
Cole also has yet to allow a homer after leading the AL with 33 yielded last year, when he also racked up a major-league-best 257 strikeouts.
Manoah (1-1, 6.98 ERA) has been tagged for 15 runs while allowing four homers and 15 walks in 19 1/3 innings. Last year while finishing third in the AL Cy Young Award race, Manoah served up 16 homers and issued 51 walks in 196 2/3 innings.
On Sunday, Manoah matched career worsts by allowing seven runs and nine hits in 4 2/3 innings.
"I've had my butt kicked lots of times," Manoah said postgame. "I'm here right now and I'm going to keep fighting my way out. That's what this team needs from me, and that's what I'm going to do."
Cole is 6-2 with a 3.75 ERA in 12 career starts against Toronto. He was 1-1 with a 5.00 ERA in three starts against them last season, including April 13, 2022, in New York, when he allowed two of Guerrero's three homers.
Manoah is 2-1 with a 2.31 ERA in six career starts against the Yankees and is opposing Cole for the first time, though the two pitchers share a history of verbal barbs stemming from an incident last Aug. 21 in New York
In New York's 4-2 win, Manoah plunked Aaron Judge with a sinker above the arm guard in the left elbow. Judge glanced at Manoah while Cole started yelling and a few other Yankees came over the dugout railing
No shoves or punches were exchanged, but Cole was intercepted by bench coach Carlos Mendoza before reaching the field and both pitchers offered somewhat of a "war of words."
Manoah invited Cole to walk past the "Audi sign," referring to the advertisement on the grass between New York's dugout and first base line. Cole's take after that incident was that it was "one too many dustings" for his taste.
Then the verbal sparring continued into the offseason when Manoah referred to Cole as the "worst cheater in baseball history" on a podcast hosted by Serge Ibaka, saying: "He used a lot of sticky stuff to make his pitches better and he kinda got called out on it."
--Field Level Media