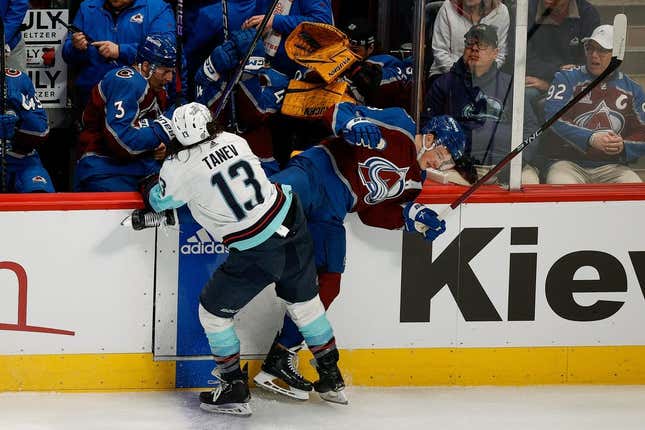 Yanni Gourde scored 1:24 into overtime, Alex Wennberg and Brandon Tanev also scored and the Seattle Kraken rallied to beat the Colorado Avalanche 3-2 in Denver on Sunday night.
Is Texas or Florida State a bigger national title contender? | Agree to Disagree
Jaden Schwartz had two assists and Philipp Grubauer had 21 saves for Seattle. The Kraken swept their four-game road trip.
Nathan MacKinnon and Denis Malgin had goals and Alexandar Georgiev turned away 32 shots for the Avalanche, who have lost three in a row.
Seattle got control of the puck on the opening faceoff of overtime and had possession the rest of the way. Gourde ended it when he went in alone on Georgiev and wristed a shot by him. It was his 10th goal of the season.
Colorado had only one shot on goal through the game's first nine minutes but made its second one count. Artturi Lehkonen battled for the puck in Seattle's right circle, and the puck trickled into the slot. MacKinnon picked it up and wristed a shot by Grubauer at 9:19 of the first period.
It was his 25th goal of the season and gave him points in 10 of the last 11 games.
Seattle nearly tied it early in the second period when, on the power play, Wennberg's shot at a wide-open net went off the bottom of the post.
Wennberg got the equalizer when he tipped in Will Borgen's shot from the point at 9:52 of the second period.
It was Wennberg's 12th marker of the season.
The Avalanche went back in front less than two minutes later when Malgin had a breakaway off a stretch pass from Evan Rodrigues and beat Grubauer off of his left pad at 11:45. It was Malgin's sixth goal of the season.
Jack Johnson was called for a trip and Mikko Rantanen took an unsportsmanlike penalty at the end of the second period to give the Kraken two minutes of a five-on-three power play to start the third. They threw seven shots on net during the two-man advantage, but Georgiev denied them the tying goal.
Seattle tied it when MacKinnon's turnover led to Tanev's goal at 17:30 of the third. It was Tanev's 13th of the season.
--Field Level Media