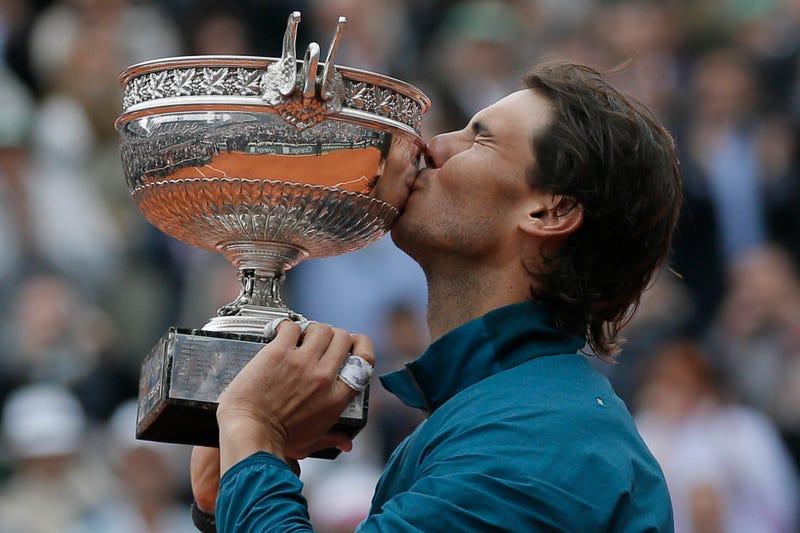 There was never any doubt. Third-seeded Rafa Nadal just bested fellow Spaniard David Ferrer in straight sets, 6-3, 6-2, 6-3 to win the French Open title. It was Nadal's eighth French Open win—a record—and the 27-year-old now has 12 Grand Slams. Ferrer, seeded fourth, did well to make it to the final, but as Nadal showed in eight of the last nine French Opens, he's one of the best tennis players in the world, and all but untouchable on clay.

The final was actually a letdown after Friday's epic five-set semifinal between Nadal and top-ranked Novak Djokovic, which took four hours and 37 minutes to complete and has already been called one of the greatest matches of all time. Nadal was the favorite coming into the tournament. Though he was sidelined with a knee injury for seven months, he came back in February fully healthy and is currently in ridiculous form. Since his return, he's played in nine tournaments, made it to the final match in each, and won seven.
Ferrer did well to get to the final, and failed to drop a single set in the tournament coming into today, but he was outclassed in the championship by the much better Nadal. Nadal broke Ferrer three times in the first set, and the only time his onslaught was halted was when a half-naked man in an opera mask ran on the court with a lit flare in the second set. By that time, Nadal was up 5-1, and everyone in Paris already knew what would be the final outcome.
With the win, Nadal tied Roy Emerson for third all-time with 12 Grand Slam wins. He only trails Pete Sampras with 14 and Roger Federer, who's won 17.
Photo Credit: Associated Press